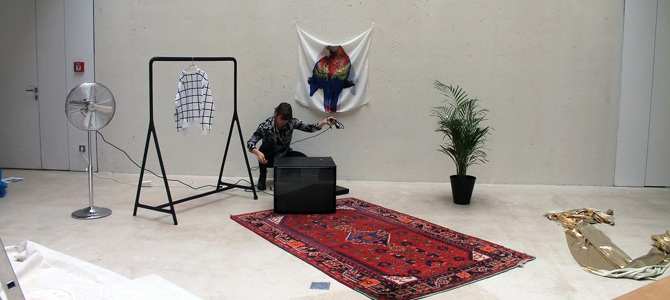 I have always thought that the words 'Good artists copy, great artists steal' were Picasso's. I discovered later that many others preceding him had already used that phrase in slightly different versions. Masters and spiritual fathers of modernity such as Oscar Wilde and T. S. Eliot were among them. These words of wisdom had to make history as they are incarnation of their meaning. With the use of this phrase it is possible to rewrite the history of arts according to which artists, each in a different manner, managed to 'redo' works of other artists both contemporary ones and their predecessors as well as the images surrounding them.
An example of such activity may be the works of the three artists represented in the exhibition Irene Fenara, Cristina Garrido y David de Trabucco. The practice of each of them consists in reusing works created by others including artists and not only. It is therefore a result of a collective machine of our times expressed in a huge, countless number of images. Each of three artists highly embodies the spirit of the times we live in. In this regard their works differ from the ones created by artists belonging to the previous generations involved in Appropriation Art or representatives of the groups such as Pictures Generation from the '70s and '80s in the USA.
Cristina Garrido (Madrid 1986) came up with giving new life to a direction of art known as Institutional Critique. The way images, artistic material or works of others are appropriated and reused in her works is inextricably linked with changes in the artworld. The film Outside the White Cube (2011) documents the artist in the moment of appropriating a copy of a Sotheby's magazine just delivered to the door of Jay Jopling, founder of White Cube Gallery. Subsequently, she paints over the images of some works in an imperceptible way and finally puts the magazine back where it was found. It is a similar procedure presented in Veil of Invisibility (2011 – Present) where artworks depicted on a series of postcards purchased in museums and other institutions turned 'invisible' through a subtle intervention with paint. Another artist's work is Best Booths (2017) representing a series of collages where the images of gallery booths – selected as the best ones from the Internet platforms such as artnet or Artsy – were set in the interiors of art institutions. The aim of this minimal intervention is to show the possibility that an exhibition booth may be regarded as a true masterpiece of our times, which – as its author underlines – due to the current situation where art fairs are suspended and in total uncertainty, appears as a testimony of a past which is probably lost.
Rodríguez Gallery  ul.Wodna 13/4 61-782 Poznań, Poland
Image: Cristina Garrido. Innsbruck