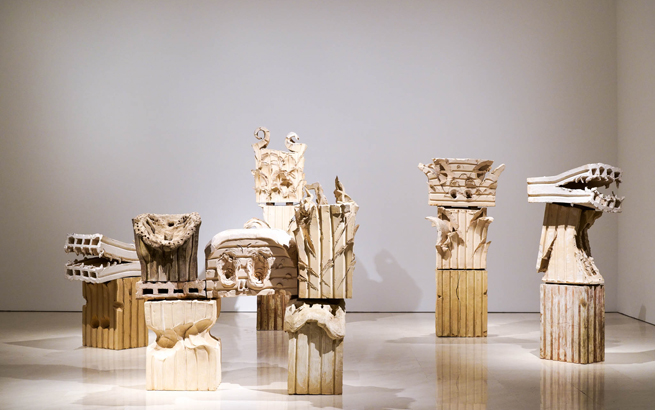 Barceló returns to Malaga after more than a decade, with an exclusive selection of works made over the past few years: 30 ceramics, 13 paintings, 42 watercolours, 6 travel logs and a small sculpture, along with an installation comprising 7 large bronzes that has been set up in the central courtyard of the museum. Mutation, mobility and transition are just some the characteristics of the Majorcan artist's work, and his creative world corroborates his permanent metamorphosis since the beginning of his career. The passage of time and material alchemy are prominent elements in the theme of the exhibition.
The exhibition Miquel Barceló. Metamorphosis, curated by Enrique Juncosa, focuses on the artist's culturally nomadic nature. It is also a critical view of creation as a project of unlimited progress: each of his works leads us to another, in a cyclical process of reinvention. Based on the reality that he sees, experiences, reads about and imagines, his representations contain sociological and ecological nuances, while also expressing a passionate inner life. His work has been shown at leading institutions all over the world, such as Museo del Prado, Madrid; Musée du Louvre, Paris; Galleria Nazionale d'Arte Moderna, Rome; and the Marlborough Gallery, New York.
Like Pablo Picasso, for Barceló ceramics, painting and drawing are all variations, experiments on a whole. "Each work is experimental. Each work is a trial run for another that will probably never exist. I think this is as true of my painting as my ceramics – or any other thing I make". He says that what he has learnt from Picasso is "a kind of generic influence, a way of relating to life, a way of being in the world". A constant renewal of the search; a versatile exploration of new supports; the interrelation of diverse techniques and artistic periods; a way of working that is incessant and vertiginous; chromatic richness; discourse with traditional canons; a fascination with mythology and the archaic symbolism of bullfighting; illustrating books… These things somehow create a bond between the two Spanish artists, as cosmopolitans, as children of the Mediterranean, and as creators of an art that is as primitive as it is irresistibly modern.