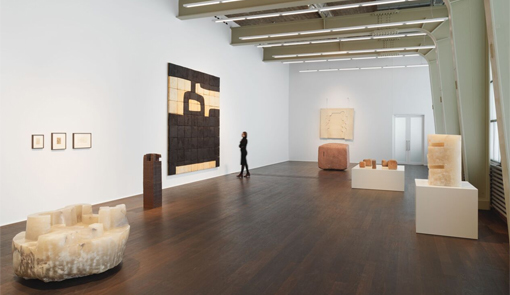 Chillida is highly revered as a relentless innovator who challenged the conventions of sculpture through a questioning of form, material and space. Conceived as a celebration of the artist's mastery of materials, the presentation is the rst of its kind in the Zurich gallery and showcases Chillida's wide- ranging and pioneering practice through a presentation of rarely exhibited works. The selection of significant artworks, which spans over a timeline of 50 years, includes small- and large-scale sculptures in steel, chamotte clay, granite and alabaster, as well as drawings, engravings and his Gravitaciones (Gravitations). With a number of Chillida's sculptures included in the permanent collections of prominent Swiss institutions, the works in the exhibition contextualise the presence of the artist within the Swiss cultural landscape.
Born in San Sebastián in 1924, Chillida was continually inspired by the natural and industrial environment of the Basque Region, reflected in his diverse choice of materials including steel, iron and wood. Combined with a deep understanding and respect for these media, the artist's interests in the possibilities of defining space and light through form were principles at the core of his practice. These lasting ideas originated from his time studying architecture in Madrid during the early 1940s, a eld which had a long-standing impact on his career. Chillida often drew upon influences from European and Eastern philosophies, poetry, and history, and his experiments with abstract forms encompass both physical and metaphysical concerns. Chillida first began to experiment with local materials after returning to the Basque Country from Paris in 1951, where he had moved to study drawing and later sculpture. During his time in Paris, the artist produced a number of figurative works in materials such as plaster, inspired by the Ancient Greek sculptures he encountered in the Louvre. As the centre of gravity of the art world shifted from Paris to New York, Chillida returned to San Sebastián, determined to delve into the artistic possibilities of the region.
During this period, the artist learnt techniques from a local blacksmith, understanding the unique properties of iron and steel — two metals that had a particular traditional importance for Basque industry. By coaxing layers into complex structures with his hands, Chillida was able to familiarise himself with the underlying essence of such resistant materials, directly experiencing their transformation. As philosopher Gaston Bachelard noted, the artist understood the 'complicated soul' of these metals. At once conceptual and architectural, Chillida's steel and iron works became pivotal in his understanding of the intersections of geometric and organic forms.
Hauser & Wirth Gallery . Limmatstrasse 270, 8005, Zürich
Image: Exhibition Eduardo Chillida Hauser & Wirth Gallery