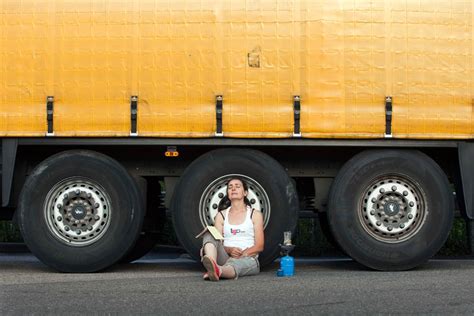 The Ibero-American Cultural Attachés Association (AACIA) presents Women Who Make a Better Ibero America: Power Behind the Everyday, an exhibition aiming to show how Iberoamerican women contribute to their cultural, economic, scientific, educational, social, and inclusive development. The exhibition features artwork by contemporary photographers from member countries across Latin America, Spain and Portugal, including the work Entre Cuatro Hierros by Spanish photographer Consuelo Chambó.
Chambó is a member of Dones Fotoperiodistas, a collective of 11 women photojournalists from Valencia. In her work Entre Cuatro Hierros, Chambó reflects the life of Begoña Urmeneta, a professional truck driver.
For this project, Chambó traveled during several weeks with Urmeneta, registering the daily life of a woman who chose a career in a field dominated by men. "This experience is a legacy to our daughters so that they can do anything they set their mind to, always make their own decisions, and always be free. This work is a fundamental piece because it reflects who I am, without prejudices, defying stereotypes. Consuelo saw me as a mother, as a friend, and as a travel companion. Her suitcase full of lenses and her smile accompanied me through Spain, France, Belgium, and through other places of memory", said Urmeneta about her choice.
Hillyer Art Space, 9 Hillyer Ct NW, Washington, DC 20008
Image: Consuelo Chambó