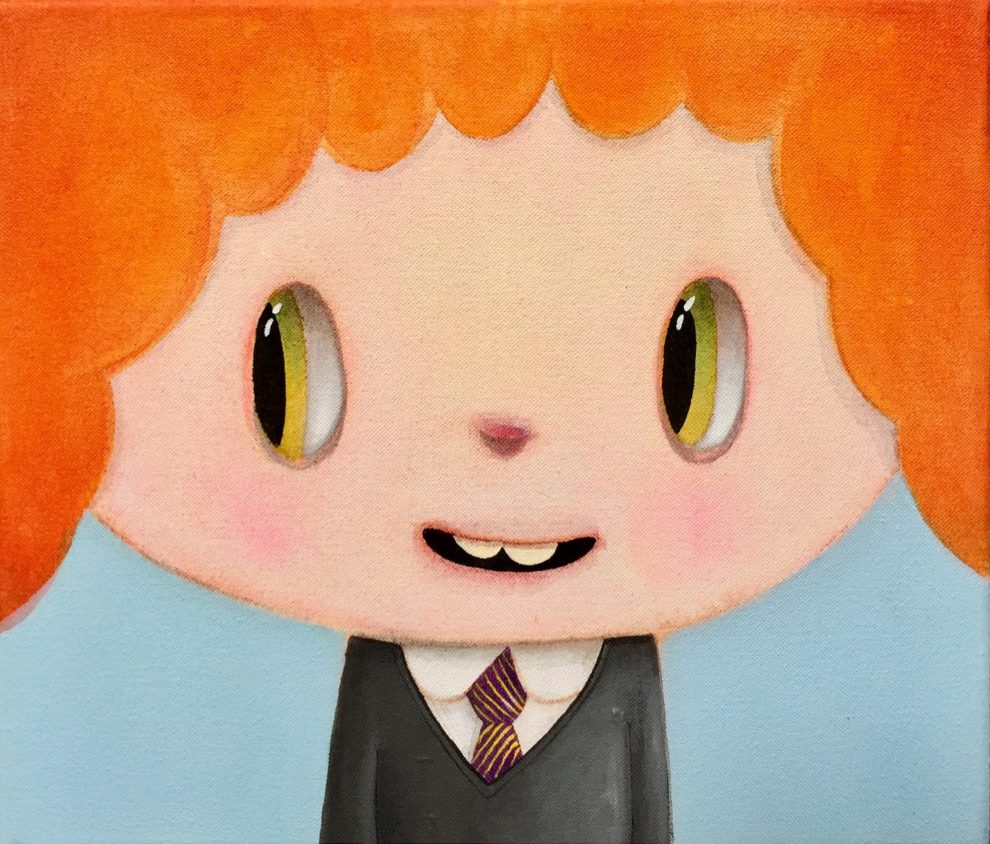 Javier Calleja produces works that bring surprise and humor to viewers by incorporating subtle twists and interventions to various events within everyday life. Expressing a fondness for the works of Rene Magritte, Calleja attempts to reference and reinterpret the techniques of the surrealist master through contemporary portraiture. As testimony of such endeavor, his expressions carefully pay attention to details such as changes in color and shifts in scene, as well as gaps and discrepancies between his subjects and the messages that they convey. Furthermore, the setting for the narratives that naturally draw the attention of the viewer, are also an ingenious ploy that are executed on his part. When confronting his works, we as viewers come to realize that what is in fact represent within its context, is our own mentality and subjectivity.
It is also significant to discuss the causal relationship between Calleja's works and Japan. For Calleja who had grown up familiarizing himself with Japanese manga (comics) and animation, his distinct style of emphasizing his subjects as cartoon-like characters was a means of expression that he had acquired naturally. In addition, Calleja's experience of providing support for Yoshitomo Nara's solo exhibition at the Centro de art contemporaneo de Malaga in 2007, had served to significantly influence his development as an artist. His approach of incorporating text into the images to depict characters with a heightened sense of wit for example, is a technique that appears to derive its inspiration from his work with Yoshitomo Nara.
The "BIG EYE" that is today regarded as the most characteristic feature in discussing Japanese comics and animation, is said as being attributed to artistic expressions that were introduced to Japan in the late Edo period from Western nations such as Portugal. This historical process by which Japanese aesthetics had come to develop a strong attachment to "big eyes" in the pursuit for more Western-style expressions along with developments in mediums like manga, is a highly fascinating example. The manner by which the influences of such styles nurtured by Japan are reimported into the works of a Spanish artist like Calleja, is indeed symbolic of the art scene as it exists within current global society.
This exhibition features a selection of paintings on canvas, an installation comprising drawings and a mural, and a life-size sculpture work. The show is designed to invite visitors into the gallery space not as viewers, but as participants in the world of the work.
Javier Calleja was born in 1971 Malaga, and graduated from Arts, Granada University, Granada, Spain. He lives and works in Malaga, Spain. His recent exhibitions include; "Few things" Galeria Rafael Pérez Hernando, Madrid, Spain (2016), "Fast food" Galerie Zink, Germany (2015), "Finally together" Centro de Arte de Alcobendas, Madrid, Spain (2015), "No art Here" Castor Gallery, New York, USA (2015), "Javier Calleja" Galerie Zink, Germany (2014), "Alimentacion cientifica de las gallinas" Beca Vazquez Diaz, Museo de Huelva, Spain (2013), "This is not my universe" Fondation Suisse, Paris, France (2012), "Javier Calleja" Cuatro Paredes, CAB de Burgos (Contemporary Art Center), Spain, (2010).