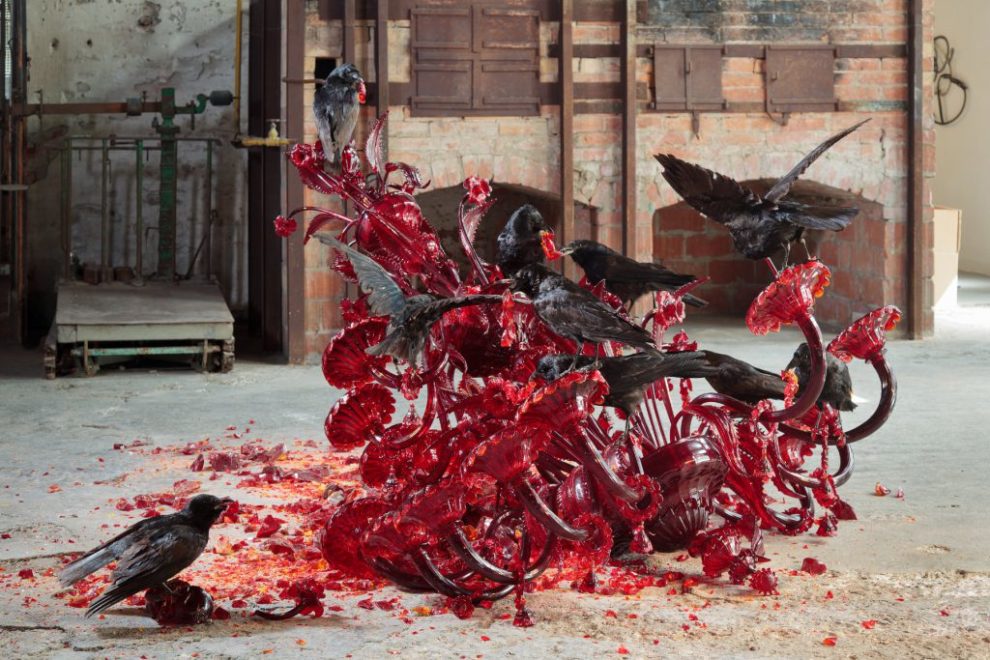 The sixth edition of GLASSTRESS brings together a new lineup of leading contemporary artists from Europe, the United States, Latin America, India, and China in an ambitious exhibition exploring the endless creative possibilities of glass. To celebrate 10 years of GLASSTRESS and 30 years of Berengo Studio, the exhibition goes back to its historical roots on the island of Murano. An old abandoned glass furnace is now an evocative exhibition space for striking new works and installations by returning artists as well as first time participants. In another section, highlights from the past ten years will go on display. A special project by Robert Wilson, curated by Jean Blanchaert, will also feature as part of the exhibition. Curated by Vik Muniz and Koen Vanmechelen.
GLASSTRESS 2019 – Participating Artists:
New artists: Renate Bertlmann (Austria), Saint Clair Cemin (Brazil), Antonio Dei Rossi (Italy), Pedro Friedeberg (Mexico), Carlos Garaicoa (Cuba), Artur Lescher (Brazil), Denise Milan (Brazil), Prune Nourry (France), José Parlá (USA), Pablo Reinoso (Argentina), Valeska Soares (Brazil), Tim Tate (USA), Francisco Toledo (Mexico), Janaina Tschäpe (Germany), Robert Wilson (USA), Rose Wylie (UK).
Returning artists: Ai Weiwei (China), Fiona Banner (UK), Monica Bonvicini (Italy), Tony Cragg (UK), Shirazeh Houshiary (Iran), Karen LaMonte (USA), Massimo Lunardon (Italy), Haroon Mirza (UK), Vik Muniz (Brazil), Jaume Plensa (Spain), Laure Prouvost (France), Andrea Salvador (Italy), Thomas Schütte (Germany), Joyce Jane Scott (USA), Wael Shawky (Egypt), Sudarshan Shetty (India), Lino Tagliapietra (Italy), Koen Vanmechelen (Belgium), Joana Vasconcelos (Portugal), Erwin Wurm (Austria).
Anniversary highlights  Jean Arp (Germany), Ayman Baalbaki (Lebanon), Miroslaw Balka (Poland), César (France), Jake and Dinos Chapman (UK), Mat Collishaw (UK), Tracey Emin (UK), Jan Fabre (Belgium), Kendell Geers (South Africa), Francesco Gennari (Italy), Abdulnasser Gharem (Saudi Arabia), Michael Joo (USA), Ilya & Emilia Kabakov (Russia/USA), Michael Kienzer (Austria), Hye Rim Lee (South Korea), Oksana Mas (Ukraine), Hans Op de Beeck (Belgium), Tony Oursler (USA), Javier Pérez (Spain), Antonio Riello (Italy), Bernardí Roig (Spain), Bertil Vallien (Sweden),  Fred Wilson (USA), Dustin Yellin (USA).