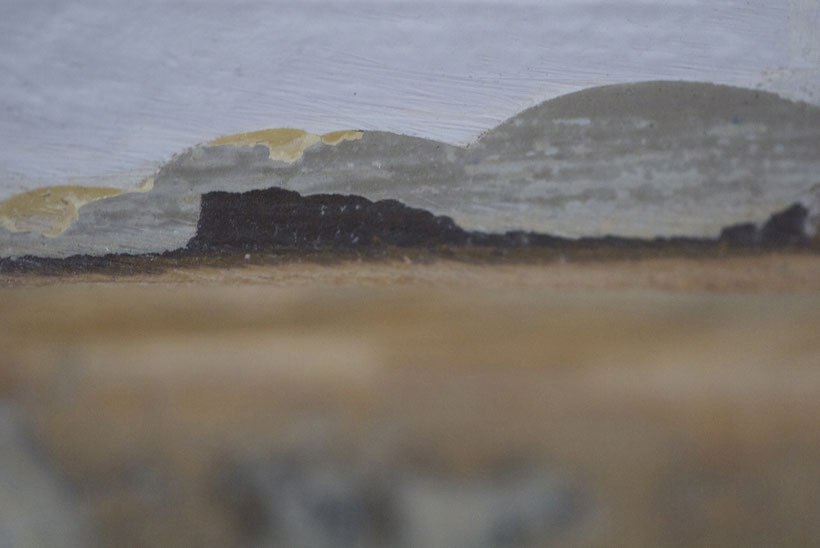 Berta Sése´s photographic work is based on the close up perception and observation of our daily life, by interpreting the details it conceals. Using the macrophotographic technique, the artist livens up the discoveries of her visions in dreamlike worlds and landscapes, fruit of the observable eye's limits.
Berta Sesé's work  is inspired by the research of the infinitely small to the infinitely big, as in quantum mathematics and fractales. She leads us to appreciate  the bond between detail and whole.
Pursuing her macrophotographic work – without editing or retouching, and as a result of a research in our human environment's erosions, barely noticeable, Berta Sesé introduces :
The Sulpha terra (in latin "land of sulfur"), nowadays known as solfatares, is a telluric manifestation characterized by volcanic gas emanations, fumaroles and important deposits of sulfur. These, together with other sulphates, cover the earth with ocher, yellow and red tints, while transposing it to confusing landscapes with a vaporous atmosphere.
With this new photographic series Berta Sesé reveals some blurred landscapes tinted with sulfur, emerged from the depths of her observations. They evoke sulfur fumes in volcanic soil, far away sanctuaries of mother nature that bring us closer to the pure beauty of our planet.
The choice of the materials used by the artist is emphasized by a watercolor style paper in order to maintain the feeling of the sfumato effect from the sulfur vapors.
Berta Sesé. Born in Barcelona (Spain) and based in Paris (France) since 2002, where she did work as a fashion designer for twelve years.  She decides to devote herself exclusively to Art since 2014. The artist's work alternates between painting and photography, two complementary media of expression without borders to her eyes. (IND press-release)
Gallery IND. 08 SAKURA HOUSE,12-22 Yamazaki-cho Ikoma Nara 6300252 Japan
Image: Berta Sése