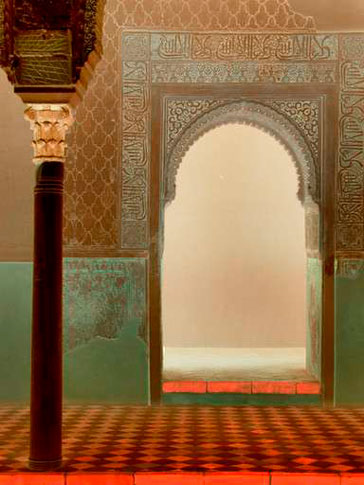 Javier Abella was born in Madrid in 1971. He's one of the artists of greater creative production in the field of urban photography. He began his career in the field of advertising and in the late 90s he entered the world of artistic photography. He studied photography at the prestigious School of Photography and Cinema EFTI.
His work has been displayed in contemporary art fairs like Estampa in Madrid and Puro Arte in Vigo. Abella has also held solo exhibitions in distinguished centers such as the AC Gallery of Contemporary Art, the Chamber Maruja Mallo, the Caixanova Foundation and the Museum of San Isidro in Madrid. His works have also been displayed in collective exhibitions such as the Iberdrola Collection, the Serna Collection, the Ministry of Foreign Affairs and Cooperation and the National Library of Spain.
Abella's style developed progressively leading to a special style of his own that features photographs in negative. The real motives derive into beautiful abstractions through an amazing chromatic transformation. "Other realities" is the result of this new approach which combines image and architecture focusing on an intense black color as a protagonist. Buildings and emblematic corners in cities like Madrid, Barcelona and Berlin have been portrayed by the artist's camera. The technique applied to these pieces allows us to see the magnificent monuments of the Alhambra in Granada from a new perspective.
quepintamosenelmundo: art, contemporary art, art online, spanish art, visual art, photography
Instituto Cervantes (Tánger). Sala de Exposiciones – Sala de exposiciones  C/ Bélgica nº 9 90000 Tánger (Marruecos)
https://cultura.cervantes.es/tanger
Image: La Alhambra. Javier Abella