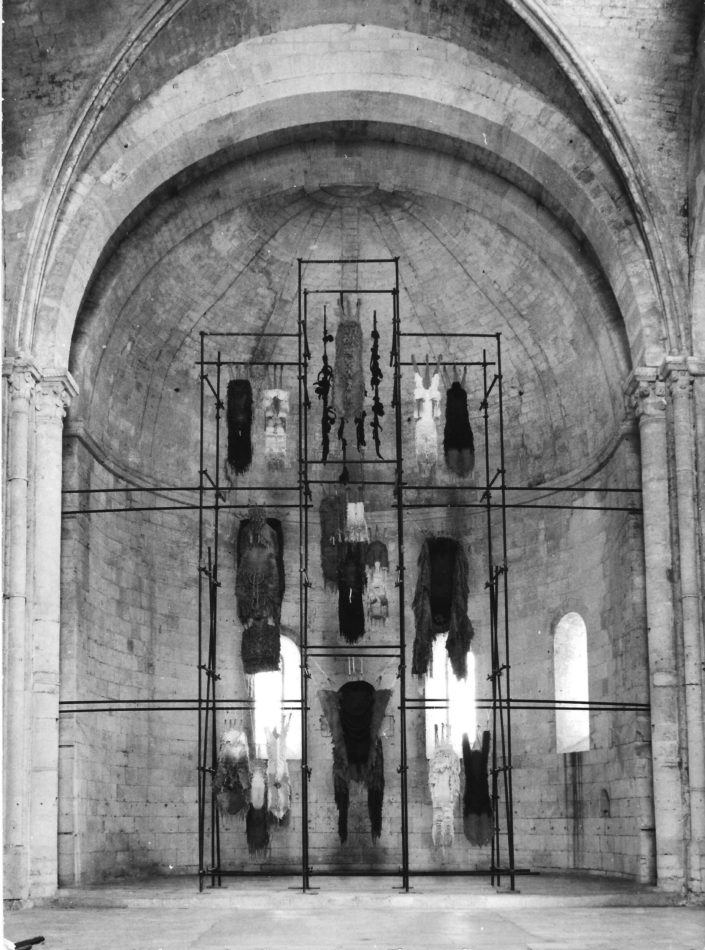 Josep Grau-Garriga (Born 1929 in Barcelona, Spain- Died 2011 in Angers, France) Lived and worked in Catalonia until 1991 when he settled in the French region of Anjou
Having begun his artistic career in painting and drawing, when Grau-Garriga was still very young he became involved in the art of tapestry – a field which he would excel in from the late 1960s, as one of the leading proponents of the contemporary textile art movement.
With a free-thinking and innovative spirit, his career spanned painting, drawing, tapestry, sculpture and installation, often utilising those mediums simultaneously within a conceptually strong and engaged practice.
For the 22nd Biennale of Sydney, there will be a new display of Josep Grau-Garriga's Alterpiece of the Hanged Men. This is an existing work dating back to the 1970's, in which the artist would create epic, large-scale installations of multiple tapestries in dialogue with non-museum spaces. Presented on large, scaffolded structures, these installations would reference both religious and historical iconography in dedication to the victims of the Franco regime in Spain. Presented in a central position and reaching high up into the ceiling, a special presentation of Alterpiece of the Hanged Men will hold a pivotal position within an intervention into the Old Courts at the Art Gallery of New South Wales, a monumental space that memorialises a very difficult and oftentimes one-sided Australian history.
The Biennale of Sydney is a renowned, large-scale exhibition of international contemporary art situated across multiple sites in Sydney and beyond that takes place every two years. Over nearly half a century, and twenty-one exhibitions, the Biennale of Sydney has commissioned and presented bold artistic and curatorial endeavours and showcased exceptional works of art by more than 1,800 national and international artists from more than 100 countries.
quepintamosenelmundo, art, visual arts, spanish art, art online, contemporary art, painting
The Art Gallery of New South Wales. Art Gallery Rd. Sydney Nueva Gales del Sur 2000, Australia.
https://www.biennaleofsydney.art/
Image: Grau-Garriga, Altarpiece of the Hanged People, 1972-76, wood, cotton, sisal, jute, hemp, synthetic fiber, 1250x600x250cm, Abbaye de Montmajour, Arles (France), 1976. Courtesy Esther and Jordi Grau, Barcelona (Spain)