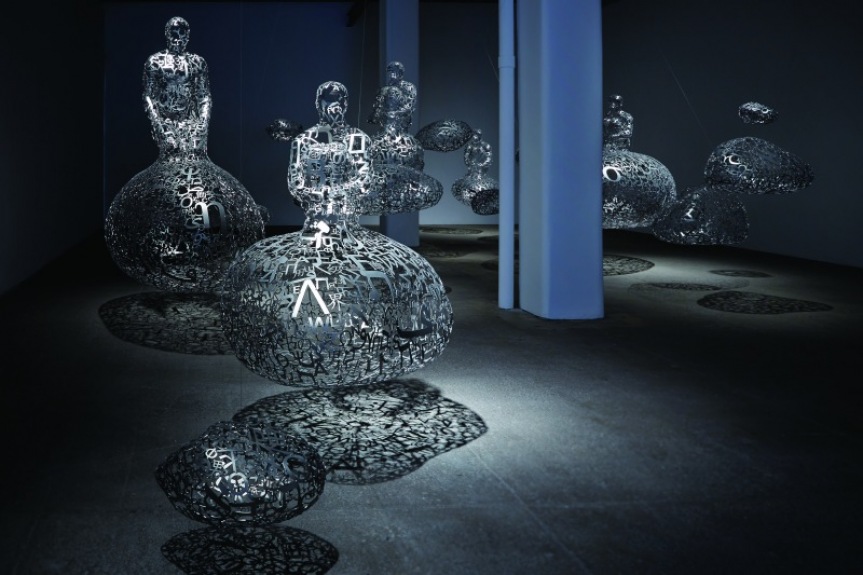 Jaume Plensa (Spanish, b. 1955) is one of the world's foremost living sculptors. He is widely known for large-scale public artworks and more intimate and meditative installations that aim to unify people through connections of spirituality, the body, and shared memory.
Talking Continents is a floating collection of 19 cloud-like, stainless steel sculptures. Their biomorphic forms are made of die-cut letters taken from nine different languages. Presented together, they refuse to come together as words, existing instead as abstract forms, arbitrary signs, and signifiers. As such, each sculpture embodies a dissolution of meaning or breakdown in communication. At the same time, the letters comprising the works are also the components needed to reconstruct words and create meaning—the building blocks for cultural understanding. A firm believer that art has the capacity to transform our lives, Plensa has stated that Talking Continents represents the concept of globalism without judgment.
Many of the suspended sculptures appear as orbs, islands, and continents: The human figures seated atop five of the largest floating spheres become a poetic vision of the world's five most populated continents in conversation with one another.
In addition to Talking Continents, Telfair Museums presents a gallery spotlighting Plensa's stone sculpture and drawing practice, exploring perspective and illusion through the flattening of form, a concept Plensa began to play with in 2013.
Standing 6 feet tall, the alabaster sculpture Laura II (2013) emerges from stone as Plensa keeps sections of the material in its natural, unfinished state, and the work shifts from realism to flattened relief depending on the viewing angle. In the selected Slumberland portraits, the subjects have their eyes closed—Plensa's conceptual metaphor for dreaming. Installed as a group, imposing yet peaceful, the works create a meditative, spiritual space.
Jaume Plensa: Talking Continents is organized by the Madison Museum of Contemporary Art. The presentation of this exhibition at Telfair Museums is curated by Rachel Reese, Curator of Modern and Contemporary Art. A fully-illustrated exhibition catalogue accompanies the exhibition.
Jepson Center  207 W. York St. Savannah, GA 31401 121 Barnard St. Savannah, GA 31401
Image: Talking Continents  Jaume Plensa. Madison Museum of Contemporary Art