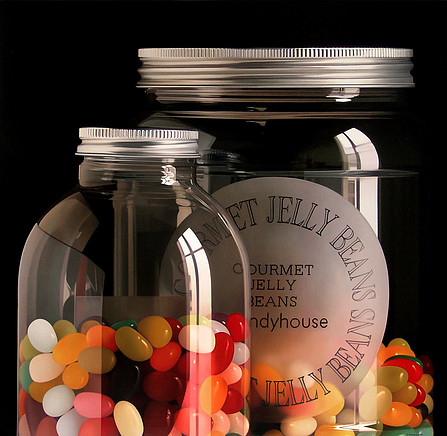 The aim of '50 Years of Realism – From Photorealism to Virtual Reality' is to present to the Brazilian audience a rich exhibition of a few well-established contemporary hyperrealist artists working today, some of whom are showing their work in Brazil for the first time. The exhibition includes works by some of the most renowned artists in the field such as the spanish artists Pedro Campos, Javier Benegas and Andres Castellanos with Paul Cadden, Craig Wylie and Ben Johnson to name a few. This exhibition also includes works by some of the pioneers of the Photorealist movement of the 1960s and 70s such as Ralph Goings, John Salt, Ben Schonzeit and Richard Maclean.
The show offers a fine compendium of the themes and techniques that give Hyperrealism its character. The hyperrealist artist brought about the return of craftsmanship and draftsmanship to contemporary art, which can be seen prominently in these technically astounding works. Grounded in paint rather than theory, these paintings speak for themselves.
Hyperrealism is a distinctly modern movement with obvious antecedents in Photorealism, along with Pop Art and Precisionism. Photorealism was the total rendition and recreation of its subject, taking realism to its literal conclusion. Hyperrealism, by contrast uses the original photograph as a starting point rather than the end goal.
Hyperrealism focuses on the visual reality and beyond, standing as a strong alternative to the conceptual art which has been so dominant within contemporary art practice, it satisfies the visual needs of the viewer. Artists of this genre examine and respond to reality in a very specific way, acknowledging the camera as a tool, and answering to the possibilities it offers to capture a moment in time, and the magic of that instance. The attention to detail, immense precision and amount of skill that goes into these works of art is reflected through the monumentality and diverse subject matter present in the paintings. At times, it can prove almost beyond visual ability.
Broadly speaking within the Hyperrealist movement there are three distinct categories that its practitioners work within: Landscape/ Urban Landscape, Still Life and Portrait/ Human Figure. Each artist's way of arriving at a painting's starting point is as unique as the painting itself. This disparate group of artists bring diverse and interesting subject matter to the movement, ranging from Pedro Campos' monumental tins of Coca Cola to Ricardo Cinalli's exploration of human suffering. John Salt's photorealistic depiction of a vintage and decaying American urban landscape shows the viewer the other side of the "American Dream".
As we live in a world in which everything around us is evolving, we are in a constant state of change and art is no exception. Since the ancient Greeks, intense realism has been an aspiration of Western art and Hyperrealism is a modern response to these figurative traditions. (Plus one gallery press-release)