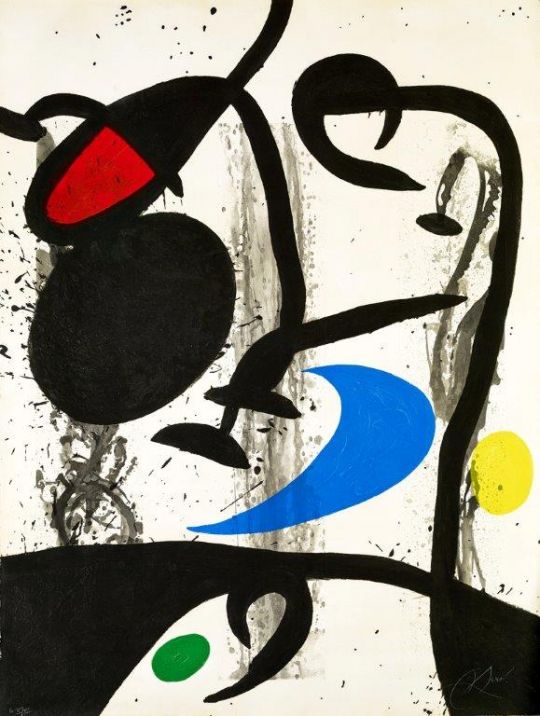 The exhibition "Joan Miró. Beyond painting." curated by Rosa Maria Malet, former director of the Fundació Joan Miró in Barcelona, gives visitors the opportunity to discover an essential aspect of the artist: his exceptional graphic work. The exhibition is centred on the working process of Miró, an artist who produced one of the most remarkable bodies of printed work in the history of art. Made possible largely from an exceptional donation by Adrien Maeght, who worked with Miró in his studio at the ARTE print shop, the show presents over 200 works, including a number of unseen gouaches. Artist's proofs, posters, prints, original lithographs, printing plates, final proofs and rare books complete the exhibition and shed light on this prodigious creative work.
Building on the legacy of Marguerite and Aimé Maeght and their son Adrien, art publishers and printers, the Fondation Maeght pays tribute to the creative genius of Joan Miró for its major summer exhibition, ten years after the foundation's last exhibition devoted to him, "Miró in his Garden". The show also echoes the retrospective presented this winter at the Grand Palais in Paris. Born in 1893 in Barcelona and died in 1983 in Palma, Majorca, Joan Miró was one of the great 20th-century artists who revolutionized the codes of modern art. Throughout his life, the artist invented a dreamlike world to serve a vocabulary of forms applied to all the techniques he worked with. "I need a starting point," explained Miró, "even if it is only a speck of dust or a beam of light. This form provides me with a series of things, each giving rise to the next. As such, a strand of thread can inspire a whole word."
The Fondation Maeght exhibition "Joan Miró. Beyond painting." reveals the evolution, scale and richness of Joan Miró's graphic work through a layout focusing on four main concepts: Joan Miró's relationships with poets, the concept of collage, combinatory possibilities and the discovery of techniques. "Joan Miró would describe himself as a painter, but he would make one thing clear: he was a painter, but a painter who wanted to express himself with all the techniques available to him," explains Rosa Maria Malet, an expert in the artist's work and director of the Fundació Joan Miró in Barcelona for 37 years. (Fondation Maeght press-release)
Fondation Maeght. 623, chemin des Gardettes. 06570 Saint-Paul-de-Vence, France
https://www.fondation-maeght.com
Image: Portrait of Joan Miró in 1968. Photo Jacques Robert / Archives Fondation Maeght.