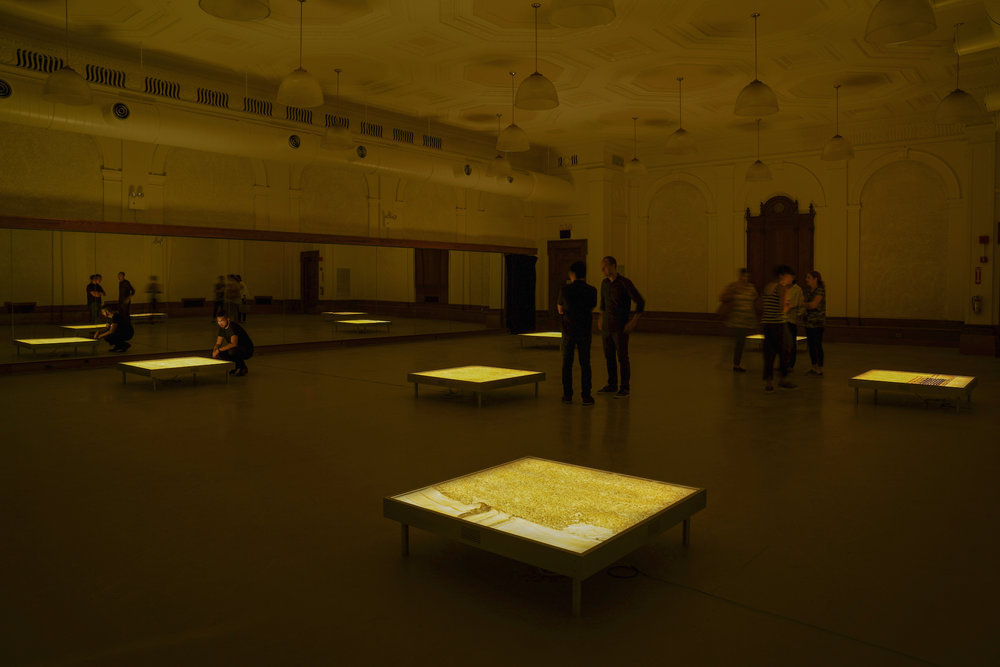 Known for his large-scale public art installations series The Ethics of Dust, Jorge Otero-Pailos displays a new body of work in-situ, titled Répétiteur, at New York City Center's Harkness Studio.
One of the first-ever City Center visual art commissions, Répétiteur is a site-specific art installation consisting of custom light boxes with sound elements. Conceived as an immersive experience, it explores how dance masters –such as Merce Cunningham– pass their choreography from generation to generation. The work draws attention to the material architectural traces that the seemingly intangible transfer of dance heritage leaves behind.
Jorge Otero-Pailos works at the intersection of art, architecture, and preservation. He is the Director and Professor of Historic Preservation at Columbia University's Graduate School of Architecture in New York. He is the founder and editor of the journal Future Anterior, co-editor of Experimental Preservation (2016), author of Architecture's Historical Turn (2010) and contributor to scholarly journals and books including the Oxford Encyclopedia of Aesthetics and Rem Koolhaas' Preservation Is Overtaking Us (2014). He is a member of the Academy of Arts and Sciences of Puerto Rico, the Academy of Science and Culture of Ibero-America, and has received awards from major art, architecture, and preservation organizations, including the 2012 UNESCO Eminent Professional Award, the American Institute of Architects, the Kress Foundation, the Graham Foundation, the Fitch Foundation, and the Canadian Center for Architecture. Otero-Pailos studied architecture at Cornell University, holds a PhD from MIT, and was a founding faculty member of the School of Architecture at the Polytechnic University of Puerto Rico. His work has been commissioned and exhibited by major museums, foundations and biennials notably, the Artangel Trust, the 53rd Venice Art Biennial, Victoria and Albert Museum, Louis Vuitton Museum La Galerie, Thyssen-Bornemisza Art Contemporary, the SFMoMA and the Chicago Architecture Biennial.
Harkness Studio, New York City Center, 130 West 56th street, New York, NY 10019
Image: "Répétiteur" Jorge Otero-Pailos