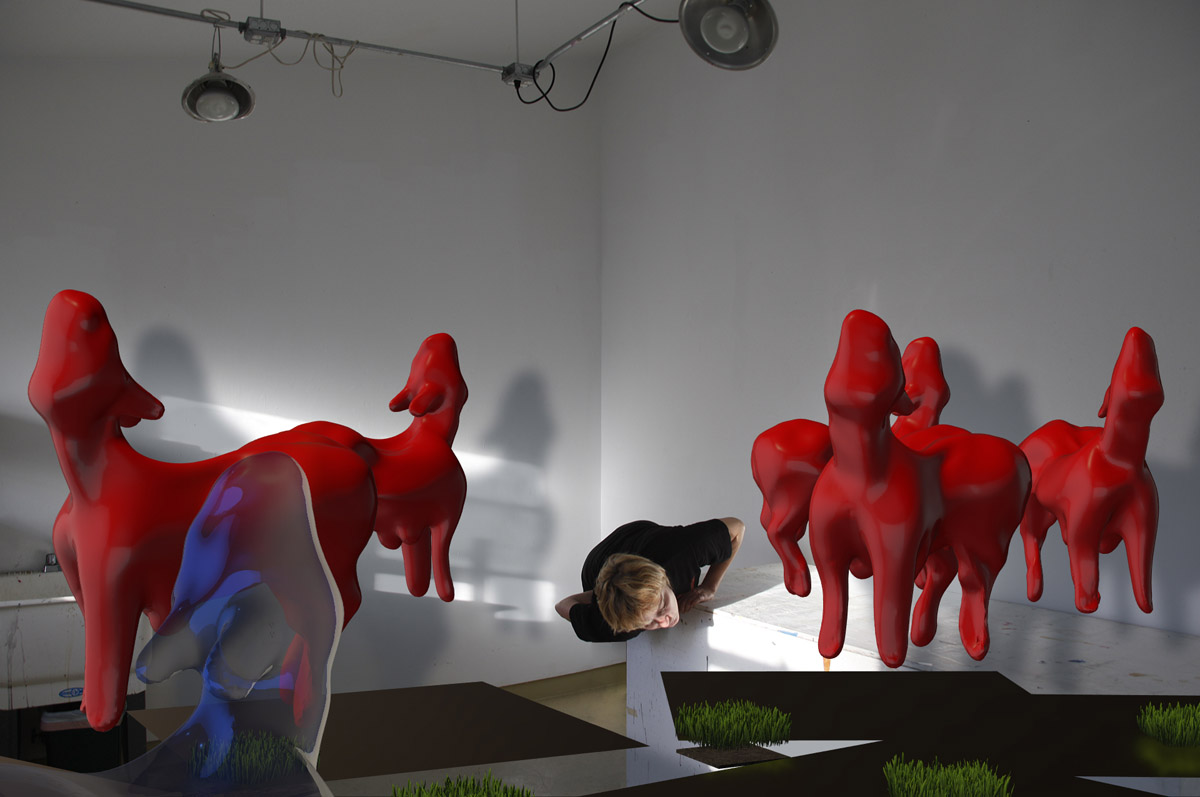 In her installation Global Mode/Playground for Drowning Animals, 2016-2018, Eva Davidova creates a surreal environment of invented animals that point a gun at themselves. These female animals express humankind and our unique ability to create and destroy at the same time. In her new VR piece, Narcissus and Drowning Animals, 2018, Davidova takes the user on a journey into a psychedelic reality where animals drop from the sky into the user's arms and take the participant with them as they drown into deep waters. Curated by Naomi Lev
Eva Davidova is a Spanish / Bulgarian multidisciplinary artist based in New York. The issues in her work –behavior, cruelty, ecological disaster and manipulation of information– emerge as paradoxes rather than assumptions, in an almost fairy-tale fashion. Davidova has exhibited at the Bronx Museum in New York City; Everson Museum, Syracuse; Albright Knox Museum, Buffalo; MACBA, Barcelona; CAAC Sevilla and Instituto Cervantes, Sofia among others.
She received the 2008 M-tel Award for Contemporary Bulgarian Art and the 2009 Djerassi Honorary Fellowship. Recent shows include Birds Birth at the ASU Emerge Festival and at the PhotoEspaña Festival in Madrid; a curatorial project, Happenland, at Radiator Gallery in NY; Playground for Drowning Animals; and Transfer and Disappearance at the Media Center by IFP.
Shoestring Studio, 640 Classon Ave, Brooklyn, NY 11238
Image: Global Mode. Narcissus and Drowning Animals. Eva Davidova.