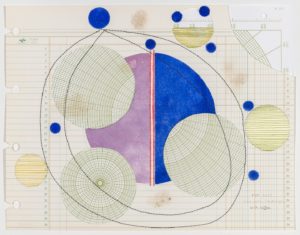 2020 marks the 100th anniversary of the ratification of the 19th Amendment, which granted women the right to vote in the United States. Even though voting was not truly available to all women in the country, particularly not to women of color, this right was hard-won by the women's Suffrage Movement and represented a true milestone within the Feminist Movement and the centuries-long struggle for women's rights.  Elena del Rivero's Suffrage series (2019-2020) honors this fight and celebrates the 19th Amendment with what she describes as "monstrous dish towels." Even though del Rivero's work stems from her own experience, and is to some extent autobiographical, the artist has explained that she aims at erasing herself, "so that the personal may become public, the personal [becomes] political and the political [becomes] personal." This notion is at the very root of Feminism, nevertheless, we may argue that the origins of del Rivero's feminism go way back, centuries before it existed as such. Her studio is named after The Paraclete, which means the name of God in the feminine and signifies one who protects; and was the name of the small oratory Pierre Abelard bequeathed to Héloïse­ – an important French thinker of the 12th century, and a proto feminist – where she wrote her most important work, a correspondence of love letters to Abelard. Medieval women like Héloïse, Hildegard of Bingen, Eleanor of Aquitaine, and 16th century Teresa de Jesús, the Spanish mystic and religious reformer, are key references, and the artist acknowledges their influence.
Elena del Rivero (Valencia, 1949) is a multi-disciplinary artist known for her works on paper and paintings as well as her sculptures, installations and performances. A great source of inspiration for del Rivero is everyday life and experiences and symbolic meaning, especially double entendres. She welcomes improvisation and spontaneity into her works and practice, allowing her projects to evolve and grow with time.
Elena del Rivero has had solo exhibitions at institutions and galleries, including: An Archive of Dust, Naves Matadero, Madrid (2019); MOTHER, Travesía Cuatro, Guadalajara (2017); Chant, New Museum, New York (2011); Oeil d'âme, Galería Elvira González, Madrid (2009); Home Suite, The Corcoran Gallery of Art, Washington D.C. (2008); [Swi:t] Home, Performance Drawings, The Drawing Center, New York (2001);Five Kept Letters…, Museo Nacional Centro de Arte Reina Sofía, Madrid (1998) and With Light, Galerie LeLong, New York (1993). Del Rivero has won many grants and prizes for her works, such as the Guggenheim Fellowship (2019); the Joan Mitchell Foundation Residency (2017) and Award (2015); the Rockefeller Foundation Residency at the Bellagio Center, Italy (2005), the New York Foundation for the Arts Fellowship (2001 and 2002); Pollock-Krasner Foundation Grant (1991 and 1995); the Academia Bellas Artes de España in Rome (Prix de Rome 1988). Her works are in the public collections of the Metropolitan Museum of Art, New York; Museum of Modern Art, New York; the Blanton Museum, Austin; Yale University Art Gallery, New Haven; National Gallery of Art, Washington D.C.; Baltimore Art Museum; Institut Valenciá d'Art Modern, Valencia; Museo Reina Sofía, Madrid; and others. The artist lives and works between Spain and New York.
Henrique Faria | New York. 35 East 67th St. 4th Floor. New York, New York 10065
Image: Rie 2019 landscape. Elena del Rivero