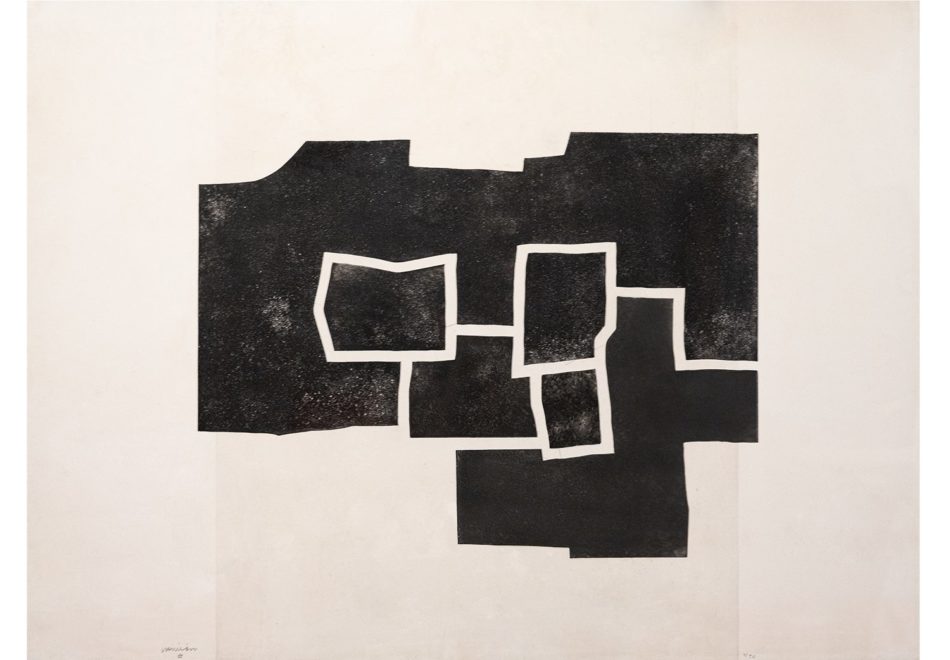 This exhibition explores the role of paper in the work of Eduardo Chillida (1924-2002) as a medium for his prints and drawings as well as an innovative material for his sculptures.
Chillida's linear drawings of hands are also part of the exploration of the limits of space. This subject appears early on in his career and originates from his interest in observing the natural movement of human anatomy. The hands open and close revealing the complexities of the space around them. The sharp execution of these works on paper, focusing on the contours delineated by fingers and nails, situates Chillida as a virtuoso draftsman in the tradition inaugurated by European masters such as Raphael and Michelangelo.
One of Chillida's most original contributions to contemporary art are his Gravitations, which are light constructions made out of paper and stitches that hang directly on the wall. Revealed for the first time at an exhibition at Galería Theo in Madrid in 1988, these works were made of felt or natural Japanese or Mexican paper. Areas of the paper were painted in black or were totally white exposing the natural tactile features of their material. The Gravitations allowed the artist to achieve a lack of gravity, always present even in his heaviest sculptural work. As the art historian Kosme de Barañano wrote on the occasion of Eduardo Chillida's retrospective at Museo Reina Sofia and Guggenheim Bilbao, "(the Gravitations) are the sculptor's chamber music, the piano solo after he has directed large orchestras,"[1] in reference to his monumental work in foundries of iron and steel.
This exhibition also presents a wide array of his works as a printmaker, from his early etchings, lithographs and woodcuts to large-scale acquaints such as the series Euzkadi (1975-1976). Among Chillida's late series of portfolios, the exhibition showcases Hommage à Johann Sebastian Bach (1997) and Aromas (2000), an artist book comprising woodcuts, etchings, and screenprints, together with texts by Chillida and his close circle of philosophers, poets and intellectuals who deeply influenced his work.
As Joan Robledo-Palop, Founder and CEO of Zeit Contemporary Art, explains "Chillida's drawings offer a unique glimpse into the artist's thinking process. The nature of this medium requires an immediacy that reveals Chillida's mastery, determination and lack of hesitation through his remarkable career. These prints, drawings, collages and paper relieves uncover a complex metaphysical universe in the artist's mind that has few parallels in the 20th century."
Eduardo Chillida | On Paper is not only the first posthumous exhibition in the United States to focus exclusively on Chillida's work on paper but also the first one that uses a digital platform to showcase his art. As Robledo-Palop states: "This exhibition devoted to Eduardo Chillida continues our commitment to offer new interpretations of little-known episodes in the history of art and our belief that the online format of the project will bring the work of the artist to new audiences and collectors around the globe."
Eduardo Chillida (Donostia/San Sebastián, Spain, 1924 – 2002) exhibited his early work in 1949 in the Salon de Mai at the Musée d'Art Moderne in Paris. Since then, his work has been the subject of more than 100 solo exhibitions in international museums, including major retrospectives at the Museum of Fine Arts, Houston (1966), the National Gallery in Washington, D.C. (1979), the Solomon R. Guggenheim Museum in New York (1980), Hayward Gallery in London (1990), Palacio de Miramar in San Sebastián (1992), the Museo Nacional Centro de Arte Reina Sofía in Madrid (1999) and the Guggenheim Museum in Bilbao, Spain (1999). He participated in numerous international exhibitions, including the Venice Biennale (1958, 1988 and 1990), where he received the International Grand Prize for Sculpture in 1958; the Pittsburgh International, where he received the Carnegie Prize for sculpture in 1964 and, in 1978, shared the Andrew W. Mellon Prize with Willem de Kooning; and Documenta II, IV and VI. A major part of his body of work is displayed in cities throughout the world and includes over forty-seven public sculptures, including De música, Dallas XV, 1989, and Peine del viento XV, 1977 in San Sebastián, Spain.
quepintamosenelmundo: art, contemporary art, art online, spanish art
Zeit Contemporary Art. 590 Madison Ave, 21st Floor. New York, NY 10022
Image: Banatu 1971 "Eduardo Chillida. On Paper"