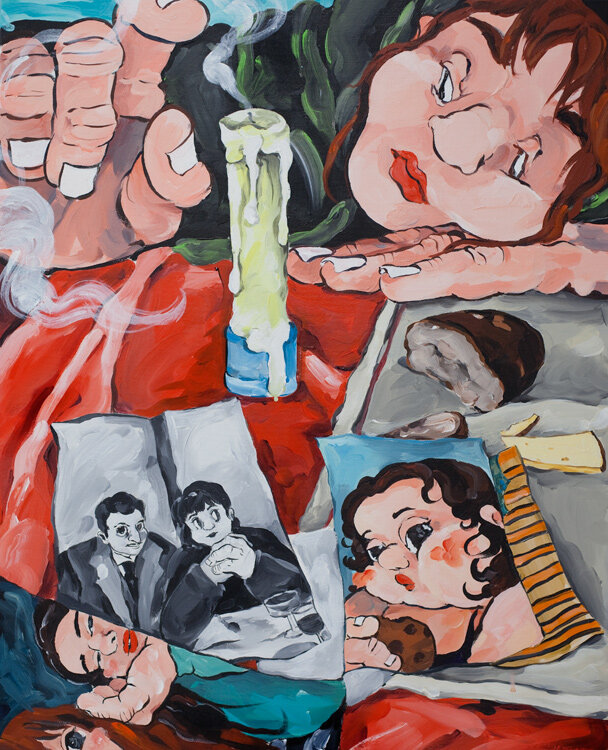 The exhibition title comes from "El poeta pide a su amor que le escriba…" (trans. "The poet asks his love to write"), a poem by renowned Spanish poet Federico García Lorca from his famous work Sonetos del Amor Oscuro (trans. Sonnets of Dark Love). In Lorca's poem, he speaks of waiting in isolation, begging for his lover to write back to him and "fill his madness with speech." He compares his lover to tigre y paloma (trans. "a tiger and dove"), because of the mix of passion and tenderness he feels for him.
Cristina BanBan's latest works reflect upon her hometown, popular figures in Spanish culture and being apart from her family during a worldwide pandemic. In contrast with works from the artist's debut solo exhibition at 1969 Gallery in January 2019, which depicted the exciting, bustling landscape of New York City, these new works are filled with nostalgia and memory. El Prat De Llobregat, 2PM, the largest painting in the exhibition, depicts the artist's family members eating and talking; one figure can be seen turning away with a remote control to watch TV, while a lone figure in vivid green, the artist's grandfather, faces away from the viewer to have a siesta.
Cristina BanBan (b. 1987, Barcelona) lives and works in Brooklyn, New York. She earned a Bachelor of Fine Arts from the University of Barcelona and is represented by 1969 Gallery (New York). Recent group exhibitions include Fredericks & Freiser (New York, NY), The Hole (New York, NY) and 68 Projects (Berlin, Germany). Upcoming exhibitions at Richard Heller Gallery (Los Angeles), Stems Gallery (Brussels), WOAW (Hong Kong) and Albertz Benda (New York). BanBan has also participated in art fairs including Untitled Miami, and Volta Basel, and her work is held in many private collections internationally.