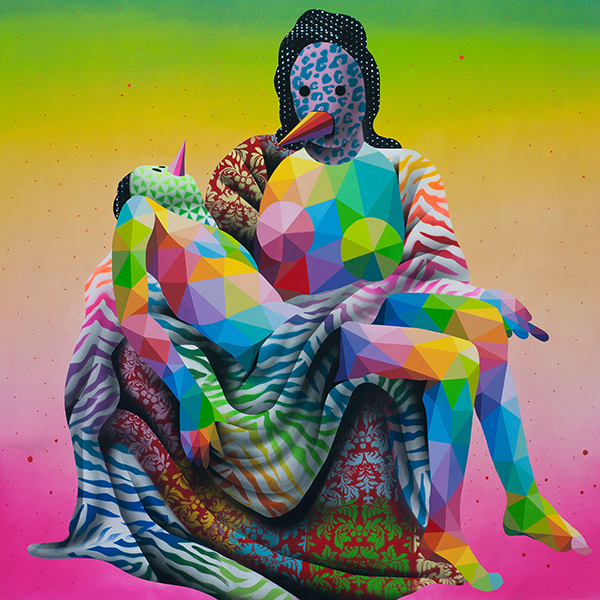 In his first exhibition in the Philippines, Okuda San Miguel will display a unique and exciting show full of color and positivism. At "Spiritual Boreal World" everyone will be delighted with a selection of amazing creations, from paintings to new sculpture designs. Okuda reflects here his particular language of rainbow geometric architectures blended with organic shapes, derived from his deep spiritualism absorbed during his multiple trips around the world.
All that, together with his colorful rainbow skies that brings remembrance to the northern lights, Okuda wants the spectator to experience "the search of spirituality in the colors of the sky".
Okuda San Miguel has a rich history in the world of graffiti. From lost railways to murals all over the world, including an abandoned church (Kaos Temple), he has created his own personal universe, inspired by surreal art, pop art and his travels. Okuda's work has been classified as pop surrealism, with evident presence of street art and urban art.
His iconographic, unique language of geometric structures and multicolor patterns that he has shown in the streets, galleries and museums across the world have made him one of Spain's most famous exports. Touching on issues such as diversity, the relationship between human beings and nature, and breaking down barriers between cultures and religions, his art is made to provoke feelings: "the fundamental role of art has to be the transformation of the viewer"
Contemporary art   –  Art online  –   Spanish art  –  Art
Secret Fresh  gallery. G/F Ronac Art Center, Ortigas Avenue . Pasig, 1502 Philippines
Image: Okuda San Miguel. The piety of the bird gods