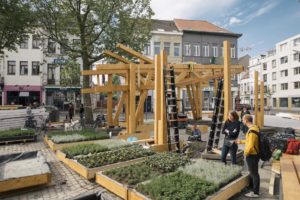 Affection as Subversive Architecture is a project by the Spanish architecture collective Recetas Urbanas exploring how to create alternative architectural and educational spaces through participatory self-construction and active citizenry. By destabilising mainstream assumptions about public structures and their legislative frameworks, this project features new architectural strategies for schools, community centres and higher educational platforms that prioritise engaging with nature and building sustainable communities.
For the next two months, The Showroom will serve as a laboratory where members of Recetas Urbanas, architect Blanca Pujals and other collaborators will share their research, generate workshops, facilitate self-construction and foster dialogues with local collectives and agencies. Expanding upon the collective's current case study of a forest school in Biggin Woods, Croydon, The Showroom will become a multi-purpose space combining the forms and functions of a living archive of previous projects, a social forum for topical issues, and a working studio for future construction, creating a dynamic communal learning environment.
Affection as Subversive Architecture seeks to reconfigure our understanding of social spaces and facilitate new forms of self-governance, creating the possibility for citizens to participate in the constructing of the public sphere. Moreover, it aims to create a circular economy whereby the ethos of collective learning and sustainable building creates not just structures, but also self-empowered communities. This poetic gesture of radical collectivity aims to challenge our understanding of how places of learning are archetypically conceived, and suggest alternative forms of physically and conceptually building schools, education and knowledge.
Convened by Recetas Urbanas, Elvira Dyangani Ose and Raúl Muñoz de la Vega
The formulation of any "urban prescription" implies an act of generosity – both from the studio and each of the individuals taking part in its development – transformed into a political gesture, establishing the condition of possibility for the generation of a social space. A space that defies what was originally imposed by the political powers that regulate the public administration. A social space that vindicates our capacity to intervene, our participation role, our responsibility in the decision making process, our capacity as active agents of change. All the while, as Cirugeda establishes, joining citizen action and quality democratic management.
quepintamosenelmundo: art, contemporary art, art online, spanish art, visual arts, architecture
The Showroom. 63 Penfold Street. London NW8 8PQ
Image: Recetas Urbanas