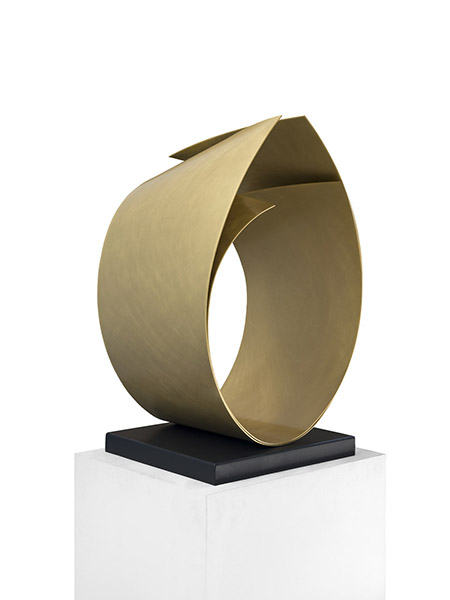 David Rodríguez Caballero, one of the main representatives of Contemporary Spanish Sculpture, opens his first solo show in London.
Composed of fifteen works in aluminum, brass and copper, in large and small formats, and a selection of original drawings on paper never showed until now, the first show of David Rodríguez Caballero (Pamplona, 1970) in London, "Sculptures and Drawings", will introduce to the British public a tour of his most recent work, in which the artist delves into the concept of folding, which jumps from paper to sculpture and from drawing to metal. The show also coincides in parallel with his fourth solo exhibition at the Marlborough New York gallery.
Rodríguez Caballero's work is represented by numerous museums and reputable private collections throughout the United States, Europe, Central and South America. Born in Pamplona, Spain, in 1970, Rodríguez Caballero currently lives and works in Madrid and New York. The artist most recently exhibited his diverse body of work in the Museo Esteban Vicente in Segovia, Spain. The exhibition, entitled El pliegue según el pliegue, was curated by Manuel Fontán del Junco, Director of the Fundación Juan March and showcased works ranging from preparatory drawings to sculpture in monumental scale. These works were displayed throughout the museum, as well as the Cathedral of Segovia, where they accompanied the lauded polychrome wood rendering of Christ (Cristo Yacente) by the Spanish Baroque master Gregorio Fernandez (1576 – 1636). In 2015, Rodríguez-Caballero's native city of Pamplona held an acclaimed solo exhibition for the artist at its renowned 16th Century Citadelle, where numerous works were on view throughout the gardens and rooms of the pentagonal fortress. An illustrated catalog will be available at the time of the exhibition.