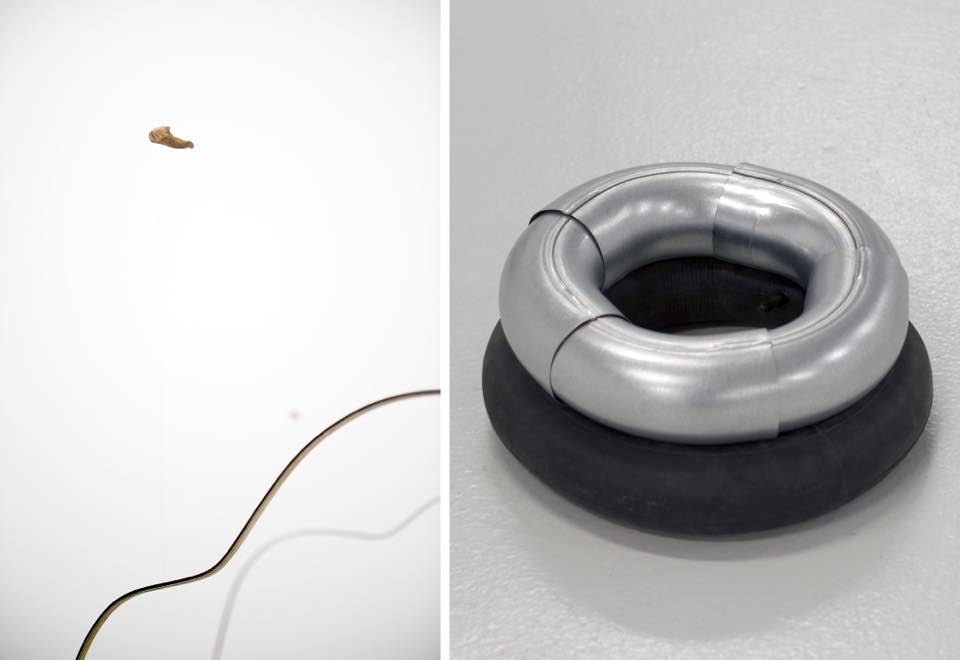 This exhibition initiates an exciting collaboration between SCAN + INTERSTICIO at a new facility on 469 Bethnal Green Rd. This new space offers larger and more flexible exhibition rooms close to transport – Bethnal Green tube – and conveniently situated between the Herald Street and Vyner Street gallery areas of East London. Our new spaces will be shared in rotation and the partnership aims to explore new curatorial synergies between the two projects as well as a more sustainable model for contemporary art projects in London.
'Where Water Rumbles, Metallised' explores pathways of interpretation and intuition, adaptation and response. The project does not pursue a specific form, but rather plurality and drift. Objects (from daily life) and art works are assembled or arranged with the intention of provoking friction between them, of dissolving their initial
meaning and triggering a new set of ideas without a preconceived binding principle.A composition, a sketch or an idea can give rise to a dialogue that enriches the content and initiates the next step.
Cristina Mejias [Jerez de la Frontera, 1986] MA Art, Creation & Research Complutense University of Madrid, BA Fine Arts European University of Madrid, and has also studied & worked in Dublin and Berlin. Recent exhibitions include (2020) The Host and the Ghost, Blueproject Foundation Barcelona, and (2019) Boca y hueso, Goma Gallery, Madrid.
Christian Lagata [Jerez de la Frontera, 1986] MA Photography & Personal Projects, Efti Madrid. He lived in Berlin and recently resident at Hangar, Lisboa (2019). Recent exhibitions include (2019) Verde Chroma, Centro Párraga, Murcia, (2020) Between Debris and Things, Centre del Carme, Valencia, (2020) AMIDST, ACCA Studio, Madrid, (2018) No es lo que parece, Sant Andreu Contemporani, Barcelona.
Fuentesal & Arenillas ( Spain 1986-1989) BA in Fine arts from University of Seville, they have lived in Berlin and London. Recent Exhibitions and awards include, (2020) Cubierta brillante / Margen delgado curated by Juan Canela for Primera Fase Prize. Artistic production program, Madrid-DKV. (2019) XXX Circuitos, Madrid, CAAC Seville, La resistencia del ello / Azul como una naranja. Luis Adelantado Gallery, (2018), Gameshow / Playshow,
Fundación Blueproject Barcelona.
Esther Gatón [1988 Valladolid] MFA, Fine Arts, Goldsmiths University of London. PhD Fine Arts, Complutense University of Madrid. MA & BA Investigation of Art, Complutense University of Madrid. Recent Shows include:(2019) El hecho alegre. Una mecanica popular de sentidos, Casa Encendida, Madrid and at Luis Adelantado Gallery, Valencia.
quepintamosenelmundo, art, visual arts, spanish art, art online, contemporary art, painting