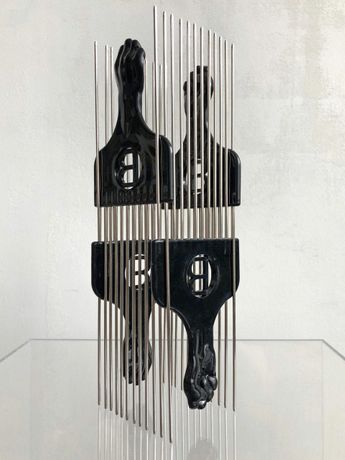 When objects are removed from their original context, they can be arranged, collected, misunderstood and exotisized. Blue Curry and Fernando Martín Godoy, two artists from abroad living in London, bring their divergent practices together to consider the role that context plays. Curry's work is playful and direct in its use of materials and in the symbolic possibilities of the found objects he works with. Martín Godoy's paintings and drawings are more guarded in their approach to the object, obscuring it almost entirely and demanding the viewer's time and observation skills before its presence materialises. In the conjunction of their works a conversation takes place, where elegance and humor lead to a number of reflections about the real and the fictive, the superficial and the transcendental.
Fernando Martín Godoy (b. 1975 Zaragoza, Spain) develops his work mainly around painting, to then expand to other disciplines like sculpture, drawing or collage. His work takes inspiration from the real world, often from found images, and from art history itself, to make a particular reading of the world, in which silence, voids of information or what happens in the dark areas of memory come to the centre of the scene. Games with geometry, subtlety and synthesis are essential elements in his visual universe. His work has been exhibited in art galleries and public spaces like CAB in Burgos, Espacio Caja Madrid in Zaragoza, MAG in Elche, Centro Guerrero in Granada, MACUF in La Coruña or Fondation Suisse in Paris, and in art fairs like ARCO, Art Fair Tokyo, Arte Lisboa, Artesantander or Drawing Room. His works are part of many public collections in Spain and in private collections in Spain, United Kingdom, France, Germany, Italy, Switzerland, Japan, Hong Kong or USA. He currently lives and works in London, United Kingdom
SCAN has been working in the last years as an online and physical platform for the promotion of the work of Spanish and Latin American artists and connecting it with the local scene in London and other European cities. Foreign Matter will also be the closing event and farewell of the temporary space SCAN have been using in the industrial building at 13-19 Herald Street, to come back to its original nomad scheme.
SCAN Spanish Contemporary Art network 79 Tradescant Road. Lambeth, SW8 1XJ. United Kingdom
Image: Foreign Matter. SCAN Spanish Contemporary Art network