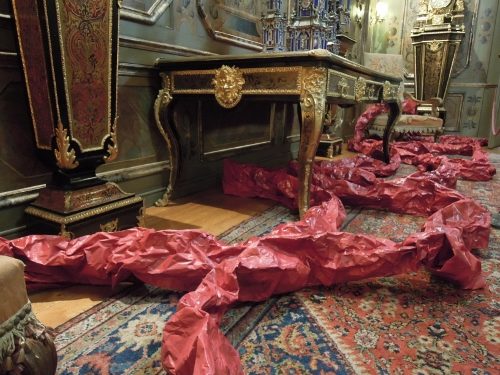 Lucía Vallejo was born in Bilbao in 1975. Sculptor and art historian. Her artwork is regularly exhibited in galleries and international art fairs like ARCO, Art Cologne or Pulse New York, ZONAMACO, among others. She has worked with Maior art gallery for a decade, and with Distrito4 in Madrid. She is managed by Proyecto H in Mexico at the time.
Her artwork is related to the decomposition movement in painting, it expands and liberates the linen's materiality recovering this fabric's expressive potential. Painting loses its two-dimensional condition to become a 3d object. She started tearing cloths and fabric and then proceeded to fold and twist them while sculpting the void. The next step in her career were installations. Her exhibition in Casal Solleric represented a turning point in her career due to the fact that her artwork became more complex  as she started to produce pieces for public spaces. The 2017 exhibition held in Tabacalera Promoción de Arte has been a great success represents her most mature work up to date and also signifies the growing importance of the female figure in her inspiration. It will tour different venues.
Since its inception, her artwork has made its way into numerous relevant international collections, public as well as private (Fundación Coca-Cola, colección Lilly Scarpetta, etc.) and has received an amazing acceptance among specialized critics.
During the months of April and May 2018 her artwork will be displayed in Oporto's Arts Palace as part of an individual exhibition titled "splendor et annuntiatio: no palácio há siléncio" curated by María de Fátima Lambert.
In 2019, among other projects, her participation in a collective exhibition at San Telmo Museum (San Sebastián), Fundação Eugenio de Almeida (Évora), as well as a solo exhibition in Lázaro Galdiano Museum (Madrid).
quepintamosenelmundo, visual arts, instalation, art, contemporary art, spanish art, art online