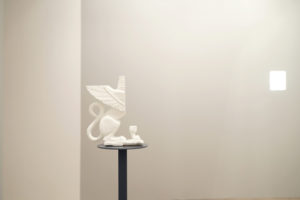 The multiple art practice by Karlos Gil (Toledo, 1984) thrives on paradox, memory and navigation between the past and the present to articulate or question the codes that construct meaning. His latest projects reflect on the cadences of language as a narrative element and its non-communicative use through multiple conceptual strategies, where art acts as a hypothesis against the unknown. Through a variety of media, he researches the movement of sense regarding the art object and examines its cognitive value as a specific system of knowledge production.
Karlos Gil studied at the School of Visuals Arts in New York and at the faculties of Fine Arts in Madrid and Lisbon. His recent exhibitions include Secret Codes, Galeria Luisa Strina (Sao Paulo), Like Potted Plants in a Lobby Office, Gasworks (London), II Moscow International Biennale, MMOMA, Museum of Contemporary Art (Moscow), Fabricated Archaeology, Junefirst Gallery (Berlin ); A Viagem da Sala 53, Baginski Gallery (Lisbon); The Moon Museum, LABoral (Gijón).
Galería Francisco Fino. Rua Capitão Leitão, 76. 1950-052 Lisboa. Portugal
Imagen: L´objet de repetition. 2016.Ceramic wire, 3d printing, steel.