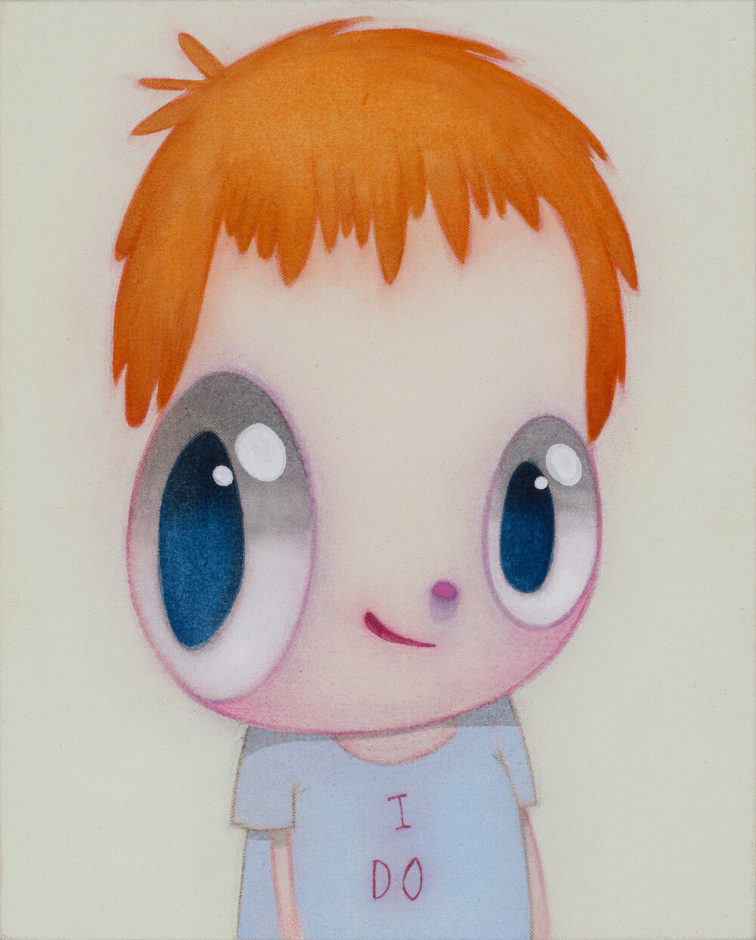 Javier Calleja intervenes in the space of the AishoNanzuka Gallery, distributed on different height levels, to locate two large-format sculptures, which are the true central thread of this exhibition, and which will be accompanied by 8 canvases and 15 drawings of different sizes.
The sculptures, both produced in various types of non-polychrome woods and with glass eyes in the purest Calleja style, are the beginning and end of the route of the exhibition I did, I do, I will do, which will be open to the public from November 15th in the Asian gallery.
Javier Calleja once more demonstrates his versatility as a multidisciplinary artist, playing with scales and bringing together different artistic expressions in the same space.
Always motivated by curiosity as the motor that is the main driving force behind his creativity, in this new show, two of his beloved characters achieve three-dimensionality and coexist with canvases and drawings in a natural harmony.
With the piece Little Maurizio, 1.60cm., of which will be additionally shown as an edition of 75 copies in a smaller size, Calleja pays tribute to Maurizio Cattelan, an artist he admires and whose works are loaded with ingenuity and a keen sense of humor, serves Javier as inspiration to recreate his particular playful, affective and innocent universe, but ironic and surrealist at the same time, in his final effort to humanize the world around him from a certain social criticism, sometimes implicit and other times veiled, that we can see in the texts which accompany his work.
With Thinking Boy, a 205cm sculpture, the artist captures that instant  of introspection which proceeds to the creative process itself, and that he, himself,  considers to be a magical moment. The immediacy of reality and living it with intensity, is the stage where Calleja's characters interact.
This duality of drawings/canvases and sculptures, puts the final touch to his 2019 international agenda in which he has held 3 solo shows, 4 group exhibitions, and has participated in several international fairs.
Javier Calleja was born in 1971 Malaga, and graduated from Arts, Granada University, Granada, Spain. He lives and works in Malaga, Spain. His recent exhibitions include; "Few things" Galeria Rafael Pérez Hernando, Madrid, Spain (2016), "Fast food" Galerie Zink, Germany (2015), "Finally together" Centro de Arte de Alcobendas, Madrid, Spain (2015), "No art Here" Castor Gallery, New York, USA (2015), "Javier Calleja" Galerie Zink, Germany (2014), "Alimentacion cientifica de las gallinas" Beca Vazquez Diaz, Museo de Huelva, Spain (2013), "This is not my universe" Fondation Suisse, Paris, France (2012), "Javier Calleja" Cuatro Paredes, CAB de Burgos (Contemporary Art Center), Spain, (2010).
quepintamosenelmundo, art, visual arts, spanish art, art online, contemporary art, painting, sculpture, drawing, painting
AISHONANZUKA. G/F, Mee Lun House, Mee Lun St, Central, Hong Kong
Image: Javier Calleja