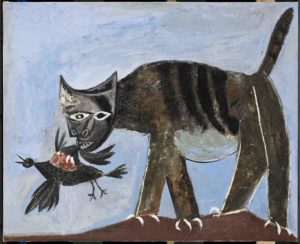 "I have not painted the war because I am not the kind of a painter who goes out like a photographer for something to depict. But I have no doubt that the war is in these paintings I have done." Picasso, 1944
The exhibition "Pablo Picasso. The War Years 1939 – 1945" provides insight into the artist's work during the Second World War. Paintings, sculptures, drawings, and documents from the years 1939 to 1945 tell of Picasso the man and the contradictions of everyday life during these times. Picasso fled from Paris to southern France immediately before the outbreak of the war on September 3, 1939 but returned to the German-occupied capital in August 1940. He remained in his Parisian studio. After the liberation of the city by the Allie Forces in August 1944, he was celebrated as a survivor.
With his works, Pablo Picasso (1881–1973) reacted to the threats of time, to death and destruction. He did not, however, focus primarily on the theme of war, but rather on the classical genres of painting. He created multifaceted still lifes, portraits and nudes, often with motifs from his private surroundings.
quepintamosenelmundo: art, contemporary art, art online, spanish art, visual arts, painting
K20 GRABBEPLATZ. Kunstsammlung Nordrhein-Westfalen. Grabbeplatz 5. 40213 Düsseldorf
https://www.kunstsammlung.de/en
Image: Chat saisissant un oiseau, 22 avril 1939 Huile sur toile, 81 x 100 cm Musée national Picasso-Paris © Succession Picasso