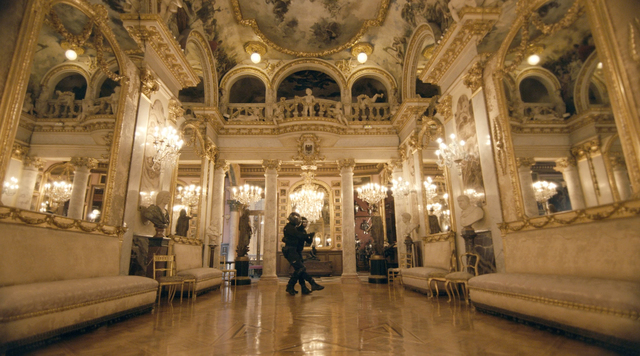 In video, installation, collage and object Carlos Aires confronts us with the
ambiguity of our world order and the constant presence of money, be it specifically as the collages are made of original banknotes or abstract as symbols of dreams, power and both moral and physical decay. The contrast between the state and the individual, between reality and dream and between richer and poorer is the overall topic. And from balloons and wallpaper the founding fathers of our civilizations are keeping a close eye on us.
In his video Sweet Dreams Are Made of This we see two policemen wearing anti-riot uniforms. They are dancing a tango version of the 1980'ties pop song Sweet Dreams Are Made of This by Eurythmics in the luxurious, guilded space of the XIX century Museo Cerralbo in Madrid. Initially a dance often between two men, the Tango developed in Argentina and Uruguay in a cultural mix of locals and African, Italian and Hispanic immigrants in the poor neighbourhoods of Buenos Aires and Montevideo.
Showing us the policemen in their anti-riot uniforms as Aires does in his video is illegal in Spain. The government made the anti-democratic "Gag-rule" two years ago, as a result of numerous protests. The rule made it illegal to take photos, videos or make any form of visual record of police forces or police uniforms without the Government's permission. The video brings out the darker side of the "free world" and overall, the ambiguity in the video points to recent years' crisis in western societies and questions our means, our goals our fears and our desires.
In his ongoing and comprehensive series Disasters (2013-) Carlos Aires juxtaposes single banknotes with photos taken from mass media of an event that has taken place in the country where the note came from. They point out the power structures and the relation between the state – the banknote being the ultimate symbol of a state – and the individual, who rebels against or suffers from that same society. Carlos Aires has stated, that "(…) Money is the only link between all catastrophes and disasters generated by humans, including many of the seemingly natural ones. (….)"
By destroying the original bank notes Carlos Aires punctures the strongest symbols of national states and he even questions the value of his own work and the market it is set of to take part in. Wrapped around the words of pop songs and showing off their attractive vivid colors, the finely cut banknotes of Carlos Aires' works lure us in and confront us with the machiavellian nature of our time.
Carlos Aires (ES/1974) was educated between Spain, The Netherlands, Belgium and USA. Upcoming exhibition: Sweet dreams are made of this. Museo Cerralbo, Madrid, Spain. Recent solo exhibitions count (selected) 2017 Mar Negro, CDAN. Huesca, Spain 2016 Sweet dreams are made of this. El Tanque, Tenerife, Spain, 2015 Sweet dreams are made of this. Mauroner gallery, Vienna, Austria, 2014 This is not just fucking business. ADN gallery. Barcelona, Spain. Aires is represented in numerous public collections a.o. Artium (Spain), MACBA (Spain), Fondation Francais (France), ARTER (Turkey), CAC (Spain) Maison Particulaire (Belgium), Progress Art (Saudi Arabia) and 21C Museum (USA)
SPECTA. Peder Skrams Gade 13. DK – 1054 Copenhagen K
Image: Carlos Aires. "Sweet Dreams are made of this" 2016).Video, 4:21´