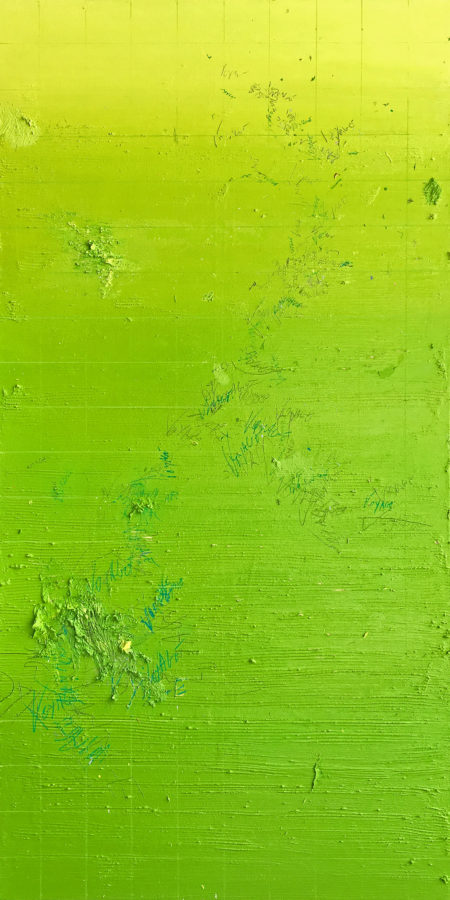 The exhibition "Voyage", by the Spanish artist Albano Hernández, joins the pictorial language with the linguistic expression. The artworks delve deeper into the limits of writing as a pictorial expression. The purpose of this creation is to fly between the rigor of the word and the richness of plastic creativity, where images build verses and verses build images. The book "Claro vuelo de la memoria", an artwork created in collaboration with the renowned poet José María Muñoz Quirós, is the cornerstone of this project. This artwork consists of a limited edition of fifteen copies in which the painter has intervened twelve carefully selected poems from more than a thousand that make up the work of the Spanish poet, and where the creative process is as attractive as the result. This process travels through memory and oblivion in a voyage illuminated by historic cities such as Ávila and Cambridge that provide their footprints and their light to set up a dialog between poetry and painting. In this game of hybridisation and metaphors, some of the represented elements, such as black lights, the murky tears in their silence or a golden fence can be seen more clearly. Others are wrapped in the longing for white deserts, sweet moors, and bitter waters.
Albano Hernández (b. 1988) is a contemporary Spanish artist based in Cambridge. Bachelor of Fine Arts by the Universidad Complutense of Madrid, UCM. This year he has attended the Course "What is an image?" at the Royal College of Art, and he will have his twelfth solo exhibition next October at the Fundación Iturria, Montevideo. José María Muñoz Quirós (b. 1957) is a member of the Academy of Poetry of Castilla y León, professor of Language and Literature of Secondary Education, and tutor of Literature and Literary Criticism of the UNED. He also coordinates the Institute of Music and Culture of Ávila. On the occasion of the exhibition, a book (ISBN: 978-1-5272-4721-5) with poems by José María Muñoz Quirós and texts by David Tual and Albano Hernández has been published.
quepintamosenelmundo: art, contemporary art, art online, spanish art
Centre for Languages and Inter-Communication Department of Engineering. University of Cambridge. Trumpington St. Cambridge. CB2 1PZ
https://www.clic.eng.cam.ac.uk/
Image: Albano Hernández. VOYAGE.152.4×76.2CM. (60X30INCHES). Oil, acrylic and graphite on canvas.2019.