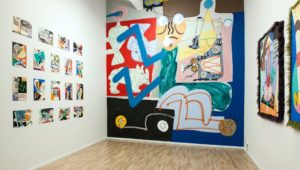 In situ installations and paintings mark out a visit to ZOO, the new MIMA exhibition. References to pop, humour and anthropomorphic art provide the backdrop.
The artist Marti SAWE was born in Barcelona in 1986. He began to write graffiti at the age of 14, a practice he continues to this day and that was to radically transform his perception of the city. He studied illustration at the La Massana art school. Following his studies, graffiti provided him with the means to combine his work as an illustrator with travel and exhibitions throughout the world. The contrast between the technique, control and discipline he learnt from illustration and the irreverence, flow and disinhibition of graffiti is clear in all his work. His letters and drawings break from the norm and are never formulaic. A tireless explorer, SAWE taught himself animation and founded the MANSON audiovisual studio in 2014, together with three other artists. His career includes four productive years immersed in the animation world, working with leading brands and artists to produce adverts and video clips and as an art director… In 2018, following his first solo exhibition in New York, he decided to focus exclusively on his career as an artist: painting, murals, sculpture, installations, video-art…
The artists: Parra (NL), Pablo Dalas (FR), Egle Zvirblyte (LTU), Todd James (US), Russell Maurice (UK), MARTÍ SAWE (ES), Steven Harrington (US), Ryan Travis Christian (US), Rhys Lee (AUS), Finsta (SW), Laurent Impeduglia (BE).
Curators: Alice van den Abeele and Raphaël Cruyt
quepintamosenelmundo: art, contemporary art, art online, spanish art, visual arts, painting, drawing, graffiti