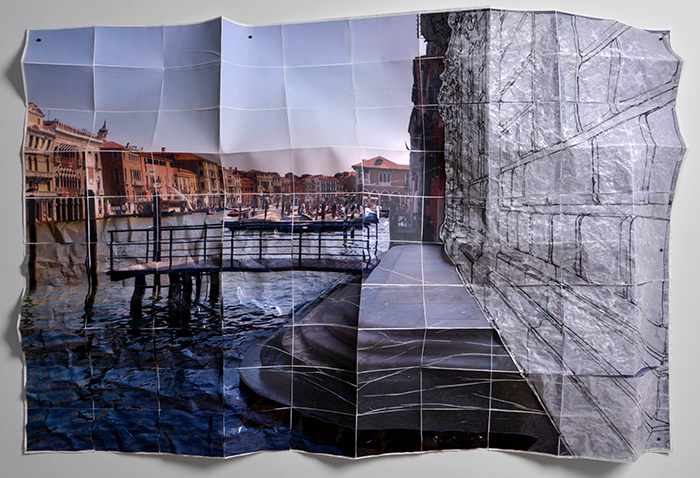 The work of Germán Gómez (b.Gijón, Spain 1972), of a marked autobiographical character, starts from photography to portray in a complex way, fruit of the mixture of several techniques, the identity of the human being. His own experiences, the people who surround his life and the journey are the bases from which Gómez develops a work that goes far beyond the photographic fact and that combines painting, drawing and collage in the same work. From the destruction of the image the artist builds it again, endowing it with a new reality in which the heads and bodies of different individuals converge. The male portrait, in its most academic treatment, is one of his recurrent themes, also inspired by the great masters of the Renaissance such as Michelangelo or Caravaggio. His compositions, deep, sometimes tortured, sometimes calm and quiet, reflect the ambiguity and complexity of the human being.
Germán Gómez's work is represented in the collections of the Museo Nacional Reina Sofía, Madrid, Spain; 21c Museum, Kentucky, USA; Anthony Terrana Collection, Massachusetts, USA; Ministry of Foreign Affairs of Spain; Ministry of Labour and Social Affairs, Madrid, Spain; Comunidad de Madrid, Spain; Colección ABC, Madrid, Spain; Fundación Once, Madrid, Spain and Obra Social Caja Madrid, Spain, among others. (Fernando Pradilla press-release)
quepintamosenelmundo: art, contemporary art, art online, spanish art
Samuelis Baumgarte Galerie e.K.. Niederwall 10. 33602 Bielefeld. Germany
https://galerie.samuelis-baumgarte.com
Image: Germán Gómez. Venecia 6. 2018. C-Print on paper, japanese paper, draw, acrylic.