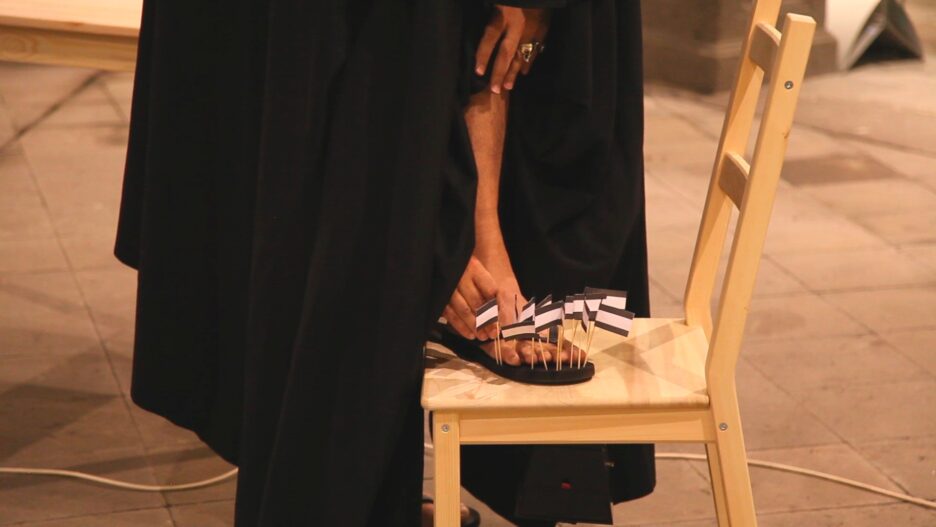 "Another panorama of the "cold war" with false information and demonstration of forces. Therefore, the use of black and white flags that colonize the periphery of a body (the body as a metaphor for individual geography, also as a border) hidden behind a cape. The flags refer to the images of historical documentations, where all these symbols appear in black and white. A chair, a table, barbed wire, music boxes, flags of the different countries are building a landscape composed of the historical borderline realities".
Pedro Déniz, visual artist, 1964, Las Palmas de Gran Canaria, Canary Islands, Spain.
Pedro Déniz is experimenting across different media: installations, photography, video, cultivating the art of action or performance-art and visual poetry. Déniz started his career in the 90s and is nowadays a well known artist on the Canary Islands. His projects were presented at several Bienniales and festivals: Welcome, in the African Photography Biennial of Bamako, 5th edition (Mali, 2003); III Lanzarote Biennial (Art, landscape and tourism) with the Back-garden project. (Spain, 2005); Dakar Biennial (Senegal, 2006); XIII International Festival of Digital Arts and Cultures of Gran Canaria, Canariasmediafest, (Spain, 2008); 10th Biennial of Havana (Cuba, 2009).
His works are in public collections such as the University of Las Palmas de Gran Canaria (ULPGC), Spain. Atlantic Center of Modern Art (CAAM). Las Palmas de G.C. Spain. Space C, Camargo, Santander, Spain. Fundación MAPFRE GUANARTEME Collection, Canary Islands, Spain. Moleskine Foundation Collection, Milan, Italy.
Dreiviertel. Monbijoustrasse 69. 3007 Bern. Schweiz
Image:Pedro Déniz