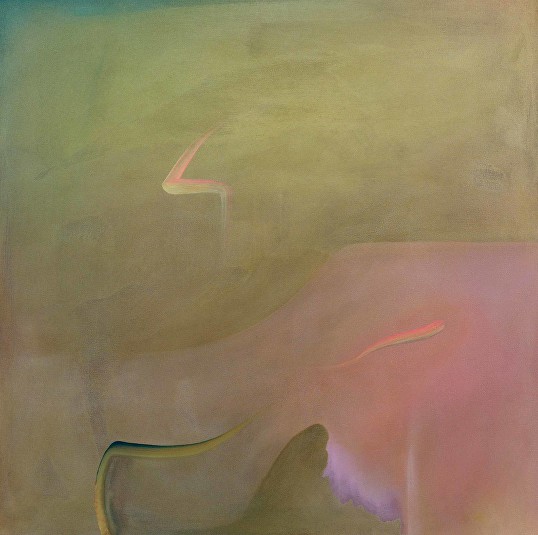 Eduard Bigas is, with weight and measure, methodical. He has, at the same time the wild spirit of a perpetual student, always eager to learn, to evolve. This means that he will obsess over his craft, the control of the light and the placement of the pigments. If from a distance Bigas's paintings seem peaceful, and they do perform, in a way, as an exercise for meditation, as one moves closer, the detailed organic elements and swooshes of colour reveal a tiny biosphere incubating.
Bigas told me many times that his only deep, deep desire is that people find his paintings "beautiful, nothing more", like a true romantic, "everything is invented" he says. There is no fear in Eduard's perceptive eyes. "There are no answers. They don't matter." We can pose questions, but beauty cannot truly be explained. It must be experienced.
In 'Time and the Others' Bigas orchestrates three movements, three series, three different moments in time.
In 'Geometry of Time', the new "crazy" ideas and experiments, there is precision and control. The geometries determine the limits in which the colours are existing. Contained, like a closed circuit, from which they cannot escape.
In turn, 'Time and the Others' seizes the opportunity to let the organic shapes drift freely, and finally in 'Transfigurative Time' – Bigas applies the same rich, sometimes even more intricate elements, but instead of letting them live harmoniously, the reality is bluntly cut obliterating entire sections of the canvas with flat light colours. These trespass as a suggestion of a missing memory, as if something needs to remain hidden, forgotten.
Bigas manipulates the measure of time to adapt it to his comprehension. In an attempt to create and capture the beauty in its purest form, his compositions seem to bend, stretch and transfigure pigments and shapes according to Bigas's will.
quepintamosenelmundo: art, contemporary art, art online, spanish art
GALERIE KUCHLING. Karl-Marx-Allee 123. 10243 Berlin. Germany
https://galerie-kuchling.de/en/
Image: "Time and the Others (Dilemma)" 2018 80x80cm Oil on canvas