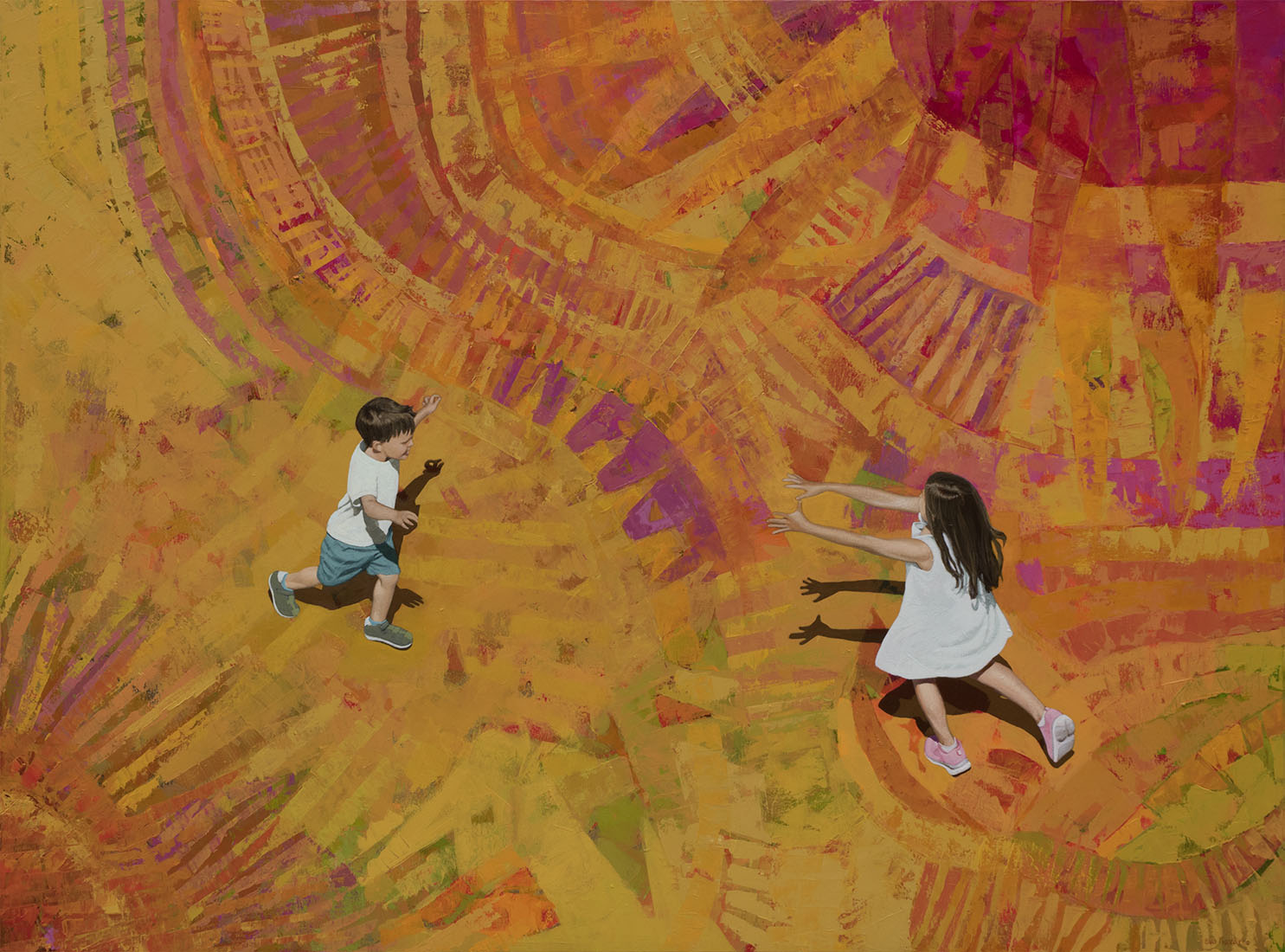 The celebration of life is central to every painting by Eva Navarro. The pleasure of all people that can be the joy of every person. Always placed in backgrounds that are as abstract as they are recognizable.
In her recent work, Navarro has increasingly embraced a spontaneous, organic process when it comes to creating her painterly backgrounds. As she puts it, they have become "co-protagonists" in the paintings—active regions of color and form that recall the work of impressionists and abstract expressionists, and seem to reflect the moods of her mysterious, anonymous figures. The subjects themselves derive from her extensive travels, on which she takes thousands of photographs of passers-by to integrate into her world. With their faces averted, they become vehicles for our reflection, even as they seem immersed in their own thoughts. As Navarro says, "My anonymous characters are only a means to express what really matters to me, which is the intangible, the emotions, the time that vanishes, our existential doubts and worries of everyday life."
A Spanish painter who lives and works in Madrid, Navarro studied fine art at Madrid's Universidad Complutense and Artaquio Art Academy. In the course of her twenty-year career, she has exhibited across Spain as well as in Denmark, the Netherlands, France, Portugal, Canada, and the U.S. Most recently she was a resident artist at the Tao Hua Tan Residency in China, and in 2016 took first place in Denmark's VKR75 International Painting Competition.
Selected Solo Exhibitions (over the last 5 years)
2019 Here Comes the Sun, Caldwell Snyder Gallery, St. Helena
2018 Summer in the City, Caldwell Snyder Gallery, San Francisco
2017 Soprafina Gallery, Boston, USA
2016 Arte Periférica Gallery, Lisbon, Portugal
2015 Alicia Winters Gallery, Arnhem, The Netherlands
2014 Soprafina Gallery, Boston, USA
GalleryThe Obsession of ArtMolenstraat 31861 LG Bergen (NH
Image: Eva Navarro