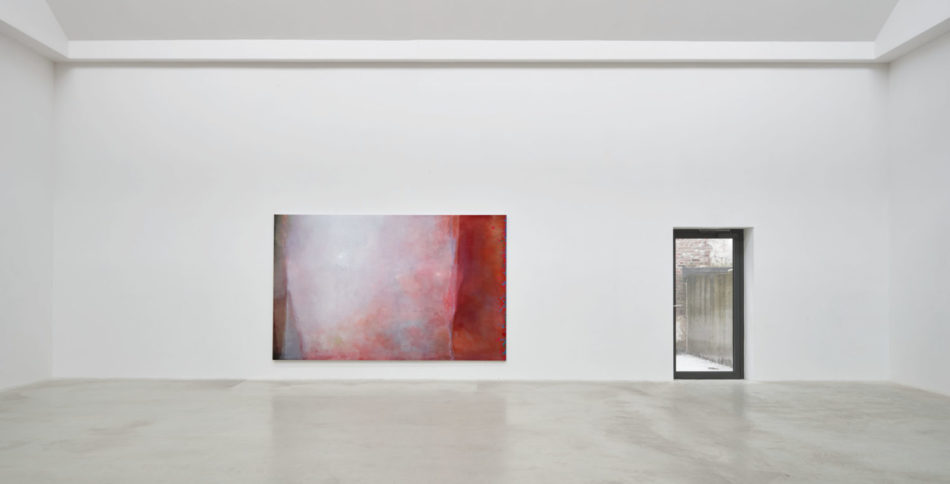 Axel Vervoordt Gallery is pleased to present J'efface, et cela apparaît, the third exhibition of Angel Vergara in Belgium with the gallery. In the Patio Gallery at Kanaal, several oil paintings on canvas will challenge recognisability and abstraction: Vergara created colour evocations that make certain patterns possible by sweeping movements. Landscapes seem to emerge, but with different approaches those facets of perception will disappear again. The work is characterised by contrast, opposites and dialectics. This transparent representation of stratification is something Vergara has been investigating for several decades.
With his video works, Vergara poetically questions the role of the artist and the economy of the work of art. One can see how whether or not recognisable scenes originating in broad range of media are slowly painted over, resulting in the layer of paint manifesting itself as a fleece over the moving image. As a result, the works are charged with a specific temporality, through the constant review of their structure and condition, subject to the connections with the colours of paint and the underlying reality. Vergara did the same by choosing reality itself as the subject, by registering the contours of passers-by with paint on glass plates. The result stands up as an autonomous objects, whether it is a digital construction, a painting mounted as a film or a film mounted as a painting. In both cases the result cannot be dissociated from its decisive performative character.
Ángel Vergara (1958, Mieres, Spain). Lives and Works in Antwerpen, Belgium. Angel Vergara's work includes a wide range of media and disciplines: representations, drawings, paintings, videos and installations. Audiovisual materials play an important role in most of his exhibition and constitute a substantial part of his work.
quepintamosenelmundo, art, visual arts, spanish art, art online, contemporary art, painting