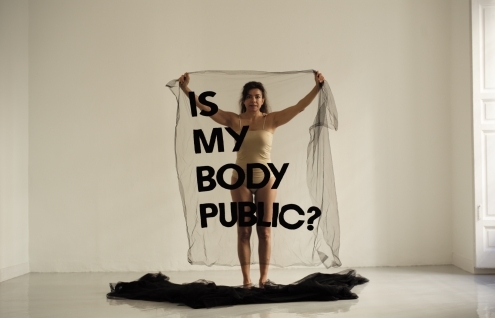 Within her practice, Alicia Framis blends architecture, design, fashion and performance. Forbidden Collections brings together two collections that are designed and made for women by women.
Is My Body Public? is a collection that explores the borders between what is public and private in our everyday lives. The dresses resemble the aesthetics of women's lingerie but are in fact banners for demonstration. The text 'Is my Body Public' is embroidered on every dress in 15 different languages, representing women worldwide. The fabric of the dresses is very fragile, and the work is subtle, but the message is strong.
The LifeDress collection consists of dresses made out of airbag fabric from cars, a high tech material made in Japan with a high resistance to impacts and fire. Each dress is made to protect against a different form of (sexual) harassment, and designed to change form when intimidation occurs. Within this collection, the action is in the dresses itself. LifeDress is connected to Framis' Anti_dog collection, that consisted of 23 pieces of clothing made from bullet-proof material to protect women, particularly women of colour, against violence, and with which Framis represented the Netherlands in 2003 at the Venice Bienal.
Alicia Framis (Barcelona, 1967) studied at the Barcelona University and the École de Beaux Arts in Paris. She completed two masters programs, one at the Institut d'Hautes Etudes, Paris and another at Rijksakademie Van Beeldende Kunsten, Amsterdam. Framis won Prix Lleida Contemporary Art, Spain (2000) and Prix de Rome, Italy (1997). Her recent exhibitions include the MUSAC, Castilla y Léon (2014), Museum voor Moderne Kunst Arnhem (2013), La Frac Haute-Normandie, Rouen (2012), Ullens Center for Contemporary Art, Beijing (2010), Centre d'Art Santa Mònica, Barcelona (2008), Palais de Tokyo, Paris (2002), Chiang Mai University Art Center, Thailand (2017) and many more. Framis represented The Netherlands in the Dutch Pavilion at the 50th Venice Biennale (2003) and has had work featured in the 2nd Berlin Biennale (2001), Performa 09 New York (2009), and Manifesta 2 Luxemburg (1998). Her work is included in numerous permanent collections, including those of Collection FRAC Lorraine (France), Migros Museum für Gegenwartskunst (Switzerland), Museum Boijmans van Beuningen (Netherlands), MUSAC de Castilla y Léon (Spain), Rabo Art Collection (Netherlands), Stedelijk Museum Collection (Netherlands), Avalon Park (New York, USA) among others. (Upstream press-release)
Upstream Gallery. Kloveniersburgwal 95  1011 KB Amsterdam. The Netherlands
Image: Alicia Framis