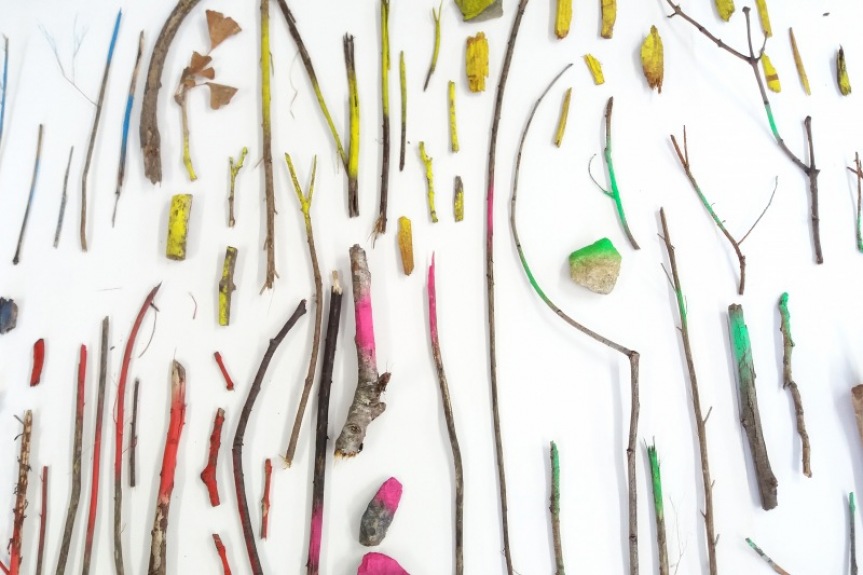 Irene Grau is a Spanish conceptual artist who challenges the boundaries of contemporary painting, the perception of color, and the limits of space. Taking the act of painting beyond the studio and off the canvas, she enters into the landscape to discover moments when the power of pure color alters our awareness of the world around us. In Irene Grau: construction season, a solo exhibition on view in MMoCA's State Street Gallery from May 5 through August 5, 2018, Grau will present a new body of work she began last summer during her five-week artist residency in Madison.
Grau's work is grounded in the history of plein air painting, an in-situ practice of landscape painting based on direct observation that was initiated by artists such as Claude Monet, Pierre-Auguste Renoir, and Camille Pissarro in the latter half of the nineteenth century. These Impressionist leaders ushered in future experimentations in modernist art-making, including the most simplified expression of formal abstraction: the painted monochrome.
Playing with the concept and process of plein air painting, Grau traversed the Madison landscape not to recreate specific scenes with pigment on canvas, but to identify existing instances of monochromatic abstraction. She discovered a vernacular form of mark-making in the vibrant, color-coded lines and shapes spray-painted across the streets and sidewalks by utility workers. Appearing random and cryptic to the untrained eye, this sanctioned graffiti points to the subterranean infrastructure of pipes and wires that powers our city. By reframing the overlooked details within our everyday surroundings, Grau transforms a standardized mode of communication used by public works departments across the country into a series of monochrome paintings—plein air paintings not of landscape, but in it.
Irene Grau (b. 1986) earned her MFA and BFA at the Polytechnic University of Valencia, Spain, and at the Accademia di Belle Arte di Palermo in Sicily, Italy. She was the 2010 recipient of a Scholarship for Academic Excellence, and the 2011 recipient of a Ministry of Education FPU Scholarship for PhD Studies. Grau has shown her work internationally in solo exhibitions and group shows since 2008, most recently in Rio de Janeiro and Sao Paulo, Brazil; Madrid, Barcelona, Bilbao, and Valencia, Spain; and at the Museum of Contemporary Art in Santo Domingo, Dominican Republic. work can be found in numerous private collections in Europe, Asia, and the U.S. (MMOCA press-release)
Madison Museum of Contemporary Art. 227 State Street, Madison, WI 53703
Image: Irene Grau: construction season