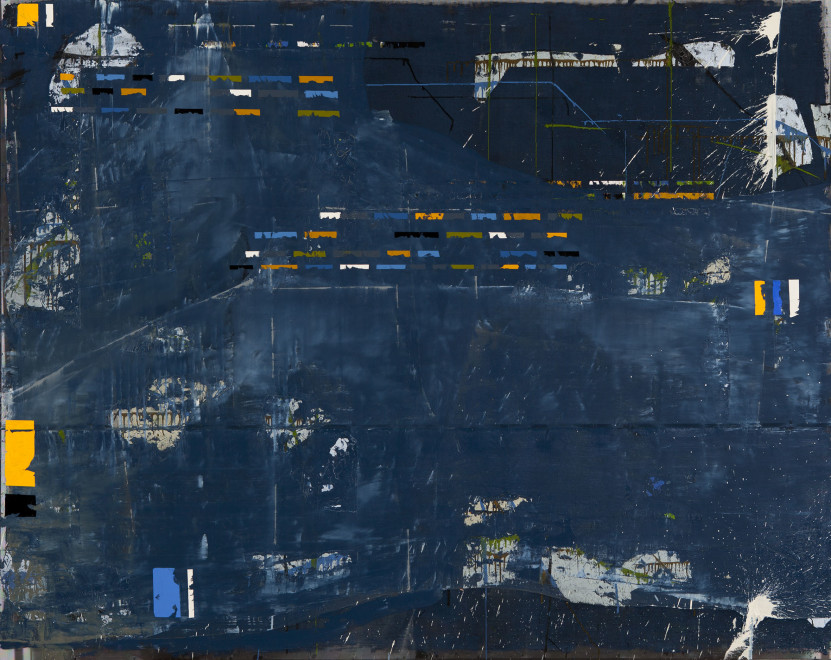 The intense responses which the artworks of both Enrique Brinkmann and Verónica Vázquez conjure up in us relate to one of the principle dilemmas which govern our lives: the need for order, whilst contemporaneously nurturing a primal desire for freedom. The evident sense of structure and geometry, which exists in nearly all their works, is subsequently torpedoed by what takes place within the apparently rational space. The emotivity derives from that unresolvable tension; the coldness which lies behind rationality and the passion which is inherent in the gesture for liberation from the shackles of perfect form.
Enrique Brinkmann (b.1938, Malaga) lives and works between Malaga and Madrid. Brinkmann has participated in several international biennals from Sao Paulo, Brazil to Beijing, China with group exhibitions in public collections such as; Museum of Modern Art, Johannesburg, South Africa; Haus der Kunst, Munich, Germany and the Bronx Museum of the Arts, New York, USA.
The artists work forms part of numerous institutional collections such as; The Museum of Modern Art, New York; The Bronx Museum of the Arts, New York; The Albertina Museum, Vienna; The Museo Nacional Cen- tro de Arte Reina Sofía, Madrid; The Fundación Pablo Picasso, Málaga; Wallraf-Richartz-Museum, Cologne, Germany; Sammlung Regierungspräsidium, Freiburg, Germany; Saarland Museum, Saarbrücken, Germany; Museo de Arte Contemporáneo, Lanzarote, Spain; Colección Santander Central Hispano, Madrid, Spain; Winterausstellung, Düsseldorf, Germany.
Enrique Brinkmann composes a visual tapestry within his abstract paintings which break into the realm of sculpture; constructing his compositions on a fine wire mesh held a few inches proud from the wall, he plays with the space between the physical painterly surface and its support. As one meditates upon the play of shadows on the wall behind, the works levitate between both their weightlessness and the density of highly worked areas of the mesh, at times pushing paint from the back, and at others painting on the front. He has continually worked within a dialogue between gesture and emptiness, noise and silence, all the while exploring his chosen surface.
quepintamosenelmundo, art, visual arts, spanish art, art online, contemporary art, painting,
Rosenfeld Porcini gallery. 37 Rathbone Street, London W1T 1NZ
https://www.enriquebrinkmann.es
Image: Enrique Brinkmann. Espacio Clasificado, 2013 . oil on steel mesh. 158 x 198 cm