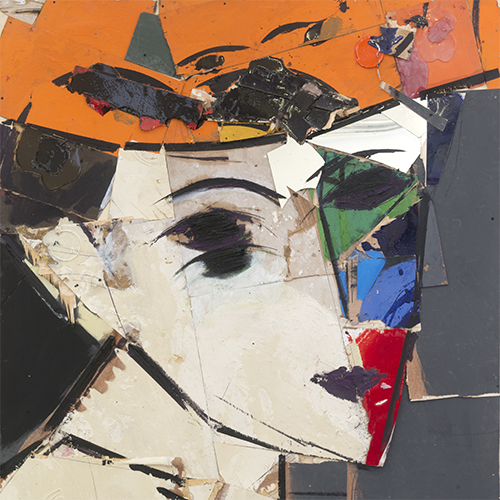 Manolo Valdes is a rare breed of artists who has mastered multiple artistic disciplines in this career. Born in Valencia, Spain, Valdes works in paint, sculpture and mixed media and describes his works as having a life beyond the themes and boundaries of an exhibition. Much like the old saying 'beauty is in the eye of the beholder', each of his works can be read differently, interacted with differently and each have something different to tell the observer. His exceptional vision and ability to create a visual and figurative language that is reminiscent of both the past and present have made him one of he most important Spanish artists today.
During a period of great political turmoil in Spain spanning from the 1940s to the 1970s, Valdes's collaboration with two other Spanish artists, Rafael Solbes and Juan Toledo, led to the creation of an important art collective called Equipo Cronica that emerged during the Franco years. The collective took inspiration from the popular and simplified aesthetics of 'pop-art' to create political works that were accessible to the masses. The provocative use of imagery from the mass media and from Spanish masters like Diego Velazquez and Pablo Picasso became the powerful aesthetics that would front their works.
Their exodus was the catalyst for Valdes's creative processes as he went on to weave the beautifully powerful visual narratives that are seen in his works today. From oils on sackcloth to large-than-life bronze sculptures, Manolo Valdes's versatility and mastery of artistic disciplines have cemented his place in Spanish art history as one of the most influential art figures of the 21st century.
With the ability to evoke rather than provoke, refraining from directing conclusions and conversations instead reflecting and projecting the visual narratives of its surroundings; Valdes' artworks embodies the silhouettes of historical art figures and motifs. Valdes delightedly and obsessively uses the world around him as his source for inspiration which has lead him to immense success around the world.
Manolo Valdés' work is featured in museums, as well as countless private and public collections across the world.
In addition to brand new sculptures and works on canvas, Opera Gallery Dubai will display 5 monumental sculptures throughout the DIFC for a period of one year, as part of the neighbourhood's public art integration program. Additionally, for the very first time in his career, Valdes has produced four sculptures mixing brass and 24 carat gold, which have been created exclusively for Dubai and will be revealed at the exhibition.
"It is an honour for us to host the very first exhibition in the Middle East for such an important artist of the contemporary art world. I could not dream of a better artist to help the gallery celebrate its tenth anniversary in Dubai. Displaying monumental sculptures in the DIFC is also our way of thanking the region for its support, and giving back to our community by displaying first class artworks to be enjoyed by all. Additionally, the curation of women figures only is a nod to Dubai's on-going vision to promote gender equality in the region. I look forward to hosting you at the gallery to celebrate this important milestone" says Sylvain Gaillard, Director of Opera Gallery Dubai.