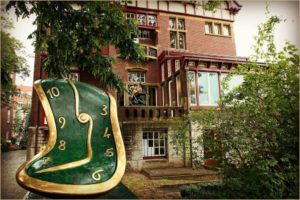 Dali
Moco Museum Museumplein Amsterdam Honthorststraat 20 1071 DE Amsterdam
01/10/2017 – 31/10/2017
A short time before the birth of Salvador Dalí on 11th May 1904, his brother – who was also called Salvador – died. Dalí grew up in the small town of Figueres in the Spanish region of Catalonia. He came from a good family; his parents encouraged his artistic ambitions and he studied at the Madrid Academy of Art. His studies saw the beginning of his eccentric lifestyle.
In the 1920s, he went to Paris and came into contact with artists such as Picasso, Magritte and Miró. This led to his first phase in surrealism.
Dalí's work began to explore three themes: The universe and human sensation, sexual symbolism, and pictography.
Even before this period, Dalí was an enthusiastic reader and fan of the theories of neurologist Sigmund Freud. The psychic, surreal and hallucinatory creatures and spaces which originated from within were in stark contrast to his classical painting technique which was influenced by the Renaissance artists.
After meeting the love of his life, his muse Gala in 1929, they achieved the kind of star status as a couple that we are now familiar with today.
His unbridled ambition and his decision to become a genius took him to unprecedented heights. As he said himself: "When I was six years old, I wanted to be a cook. When I was seven, I wanted to be Napoleon. Since then, my ambition has continued to grow at the same pace."
After World War II, he moved with his wife to the United States where his classic period of artworks began. He became fascinated by religion and the scientific discoveries of his time. In addition, Dalí learned how to work commercially: in 1969, he designed the logo for the well-known lollipop brand 'Chupa-Chups'.
In 1988, Dalí was taken to the hospital in Figueres with a failing heart. He died in 1989 and was buried beneath the Theatre-Museum.
At Moco, we believe that art is there to change the world.
Our inner world and human possibilities are increased through the imagination of artists. Humanity's open-mindedness and mental capacity can still be taken to ever greater heights and, in this, Salvador Dalí was a role model. As he once said himself: "I don't do drugs, I am drugs." (Moco press-release)