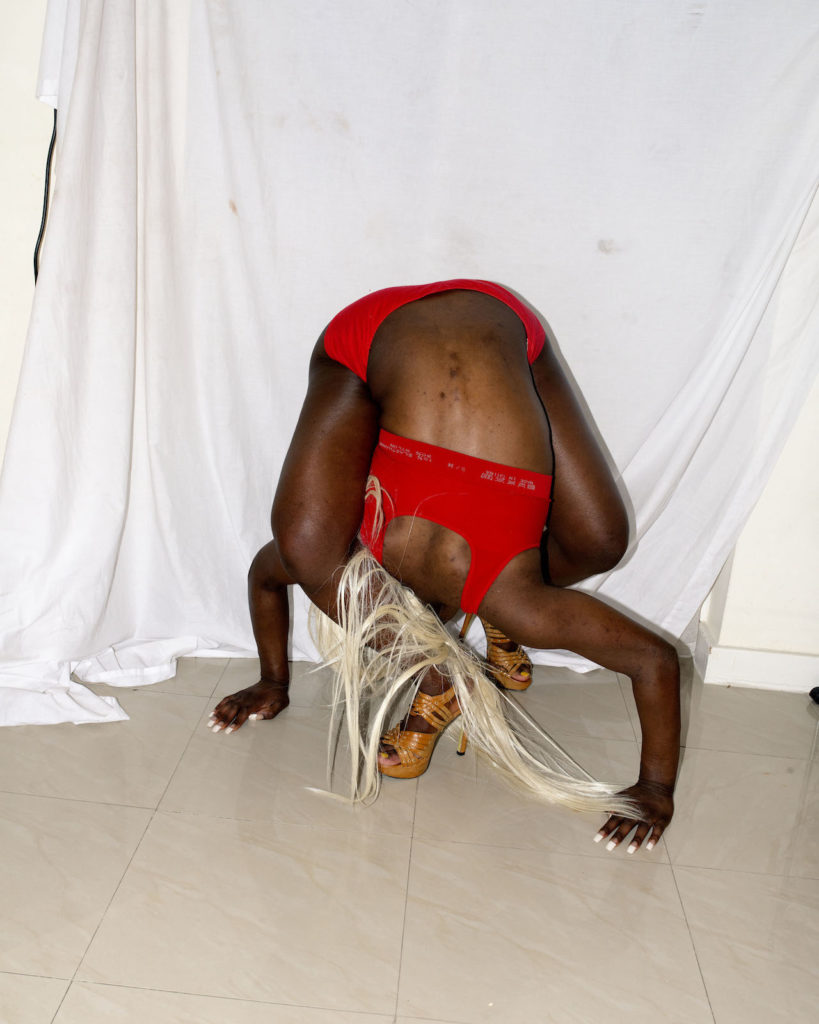 "Noises in the Blood" is inspired by contemporary Jamaican dancehall ritual.  Made in collaboration with a group of British Jamaican women in Birmingham, Lúa Ribeira recreated scenes from dancehall culture at the participants' homes. By embracing the impossibility of fully understanding this cultural expression so very different from her own, Ribeira playfully dissects the ideas of femininity and sexuality within the performances.   Ribeira does not intend the images to comment on the Dancehall, but to become the ritual itself. The power of the transformations of the women and the innovation and provocation that they engage, often clash with Western ideas of femininity. 'Mythological powers, the concept of female divinity and sacredness in Afro-Caribbean culture, were very present in my visual search. Fed by their folklore and my imagination, universal subjects such as birth, love, death and sex are central to the encounters.' – Lúa Riberia
The title is borrowed from author Dr Carolyn Cooper's book 'Noises in the Blood: Orality, Gender, and the"Vulgar" Body of Jamaican Popular Culture'. Through Noises in the Blood Ribeira did not attempt to produce a series that reinforced the mass media's view of dancehall and the female body as a denigration of women.  She did not wish to ignore the display of the participants' bodies nor their perception of femininity to create westernised versions of the dancehall ritual. Both strategies, she felt, would ultimately fail to acknowledge the complexity of cultural expression.
Recipient of the Jerwood Award and the Firecracker Grant, 'Noises in the Blood' will be exhibited at Argentea Gallery in early 2018, alongside a limited edition leporello book of the work published by Fishbar Books.
Lúa Ribeira Cendán (born 1986) is a Spanish documentary photographer based in Bristol. S he graduated in Graphic Design Degree BAU, Barcelona 2011, and with a BA in Documentary Photography from the University of South Wales, Newport in 2016. She was awarded the Jerwood Photoworks Grant 2018, the Reginald Salisbury Fund 2016, Firecracker Grant 2015 and Ditto Press Scholarship in 2015. She has participated in The Independent Air Residency, Denmark 2015, Photo España 2014, Emcontros da Imagem Discovery Awards 2015, Gazebook Photobook Festival 2015,  and 'A Fine Beginning', Contemporary Welsh Photography exhibition London 2014 . Her work was selected by Susan Meiselas for inclusion in Raw View magazine's "Women looking at Women" issue and has featured in the British Journal of Photography. (Argentea press-release)
Argentea Gallery. 28 St Paul's Square. Birmingham. B3 1RB
Image: Lúa Ribeira "Noises in the Blood"