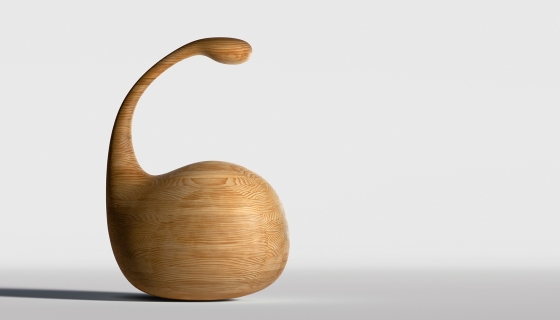 The piece was recently included in the 2018-19  solo exhibition Jorge Palacios at The Noguchi Museum, where Palacios's sculptures were shown in three of the Museum's indoor galleries and its sculpture garden in dialogue with the permanent collection of Isamu Noguchi's works.
For twenty years, Jorge Palacios (Madrid, 1979) has examined the formal properties and conceptual potential of physics in sculpture – inertia, motion, gravity, attraction, tension, continuity, velocity, balance and momentum. Palacios's sculpture explores the harmonious confluence of art and mathematics, science and the human spirit.
His sculptures have been widely shown in public spaces, includ­ing in SoHo, New York City, where he exhibited Sketch in the Air (2015); in front of the Monastery of San Lorenzo de El Escorial, Madrid; in the "Torres de Colón" in Madrid, and, as part of an exhibition of his urban sculptures in the streets of Toledo, at that city's Floridablanca Sculpture Gardens, Sun Gate, Bisagra Gate, and Santa Cruz Art Museum. His work has also been exhibited in numerous museums, including the Santa Cruz Art Museum, Museum of Fine Arts of Guadalajara, and the Mirador Hall of the Thyssen-Bornemisza, in Madrid, and it may be found in public and private collections in Canada, Switzerland, Spain, and the United States. Palacios divides his time between his studio in New York City and his workshop in Spain.
DANESE / COREY GALLERY. 511 West 22nd Street. New York, NY 10011
Image: Jorge Palacios. Okiagari – Koboshi, 2018. Accoya Wood