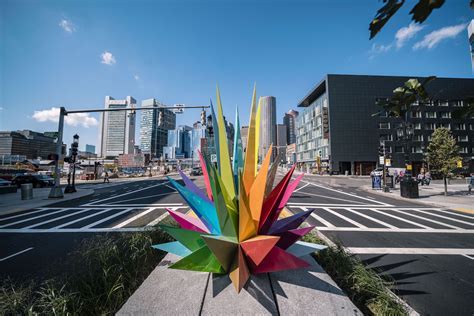 The Spanish contemporary artist Okuda brings his iconic "pop-surrealist" art form to Seaport through seven monumental sculptures lining Seaport Boulevard.
In form, they are vibrant and lively; in concept, they serve as a tale of life, coexistence, and environment. Okuda reflects on ancient ideas that man has wrestled with since the dawn of time: genesis and the creation of diverse animal species. The sculptures portray how animals developed—first by light and water, untouched by human influence, and then later shaped by humans. Additionally, he examines the importance of mythology in the shared history of animals and mankind. As his world continues to unfold, Okuda separated animals into two simplified categories—domestic and wild—as a reminder of the delicate, natural balance of our environment. By using geometric, multi-colored surfaces, Okuda invites the viewer into his imagination, where one can expand their thoughts on evolution, coexistence, and harmony.
Born in Santander,Spain, Okuda San Miguel lives and works in Madrid, graduated with a Bachelor's degree in Fine Arts from Madrid's Complutense University. His unique iconographic language of multicolored geometric structures and patterns on the streets, railroads and abandoned factories around the globe have made him one of the world's most recognizable street artists of today. Okuda's distinctive style of geometric harmonies emboldened with intense colors can make his artworks feel like they're from a parallel universe. His large-scale murals and street sculptures can be found dominating parks and squares in towns around the world. Okuda's mixed media approach to works on canvas and paper is diverse with elements of embroidery, collage and wood, highlighting his insatiable thirst for creation and multitalented ability.