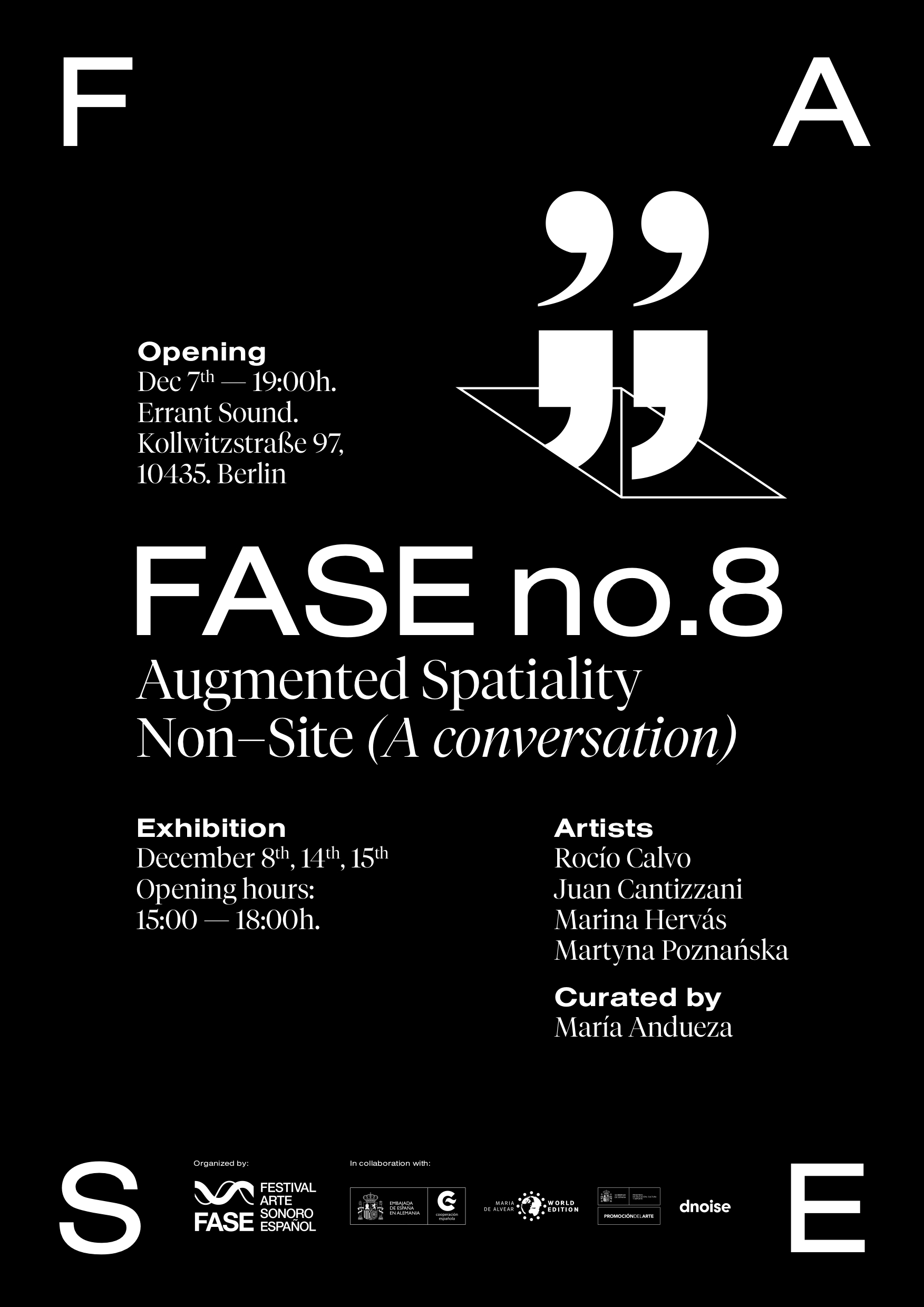 Curated by María Andueza FASE 8 Augmented Spatialtiy Non-Site (A conversation)is a collective situation dealing with the public space in relation to the exhibition device. During the first week of FASE a group made up by Rocío Calvo, Juan Cantizzani, Marina Hervás and Martyna Poznańska will explore on the displacement of the concept of "public" in between the gallery of Errant Sound and the territory of Berlin.
Following the words by Robert Smithson, the proposal is conceived as "a non-trip to a site from a Non-site". The work-in-progress during the week will consider and jointly explore, through sound interventions and documentation as living matter, the ways of appearing in and occupying out the urban and the exhibition space. Non-Site (A conversation) will be thus built up in the gallery out of the transition from the individual to the common and the round-trip paths between private and public condition.
FASE (acronym of Festival of Spanish Sound Art) is an international artistic research platform. In its origins it was developed as an annual Spanish-German festival dedicated to sound art and developed annually in Berlin since 2011. In 2012 FASE collaborates in the II Conference of Hispano-German Music organized by the Goethe Institute of Madrid. FASE has been sponsored since 2014 by the Subdirectorate for the Promotion of Fine Arts (Ministry of Education, Culture and Sports of the Government of Spain), an entity that carries out in Madrid two important milestones of FASE 6 in Tabacalera-Promotion del Arte: emerging environments. Tabacalera (December 2015-Janueary 2016) and Aurality and environment (November 2017-February 2018).
The starting point of the festival is a Spanish-German transnational cooperation to promote artistic research and sound art. The main objective of FASE is the creative exchange between Spanish and German artists, and of these with their international colleagues, with the aim of establishing a stable framework for reflection and aesthetic debate. In each edition, FASE takes various themes as the central axis of the selected and presented works. (FASE 8 press-release)