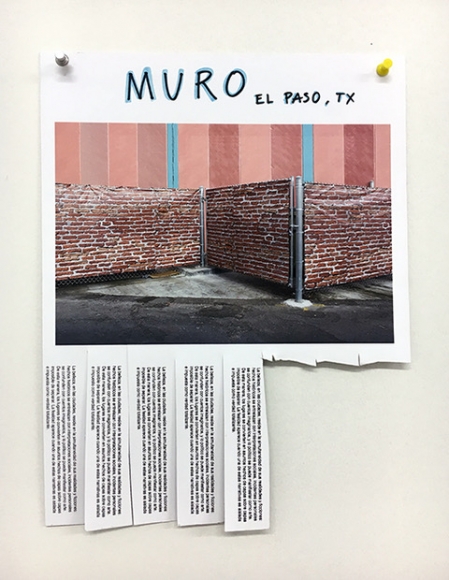 This year's exhibition includes paintings, sculptures, videos and sound works by thirty-two contemporary artists or collectives living along the US-Mexico border. The artwork explores issues related to the U.S.-Mexico border region, including immigration, crossing, and physical, linguistic and cultural hybridity.
For her part, Partegás presents Invisible Forces (flyers), 2017-18, an ongoing series of post-up paper handbills that present an image of a found object or situation on the street – odd bits of plumbing, a defunct milk crate, two benches chained together, forlorn garden fixtures – with accompanying short texts, printed on the tear-off tabs for the passerby to take. The flyers installed at the EPMA and MACJ are presented in the "non-ephemeral" form of a unique photo print on aluminum, while at the same time their facsimiled paper versions are hung in public spaces during the duration of the show. Hung on bulletin boards in publically accessible spaces such as coffee shops, laundromats, supermarkets and public libraries, the works are camouflaged among the many messages and signs encountered daily. The flyers are in a sense, a ready-made, yet with nothing for sale, they co-opt its function. They present an alternative economy, an unpretentious form of direct communication outside mainstream forms of exchange, exercising a particularly democratic means of reaching a vast audience. Slow and hidden, yet public and free, they hail from the street and return there.
Ester Partegás (b. La Garriga, Barcelona, 1972) lives and works in Richmond, VA. She holds an MFA from the Universitat de Barcelona and has completed postgraduate studies in Multimedia at Hochschule der Künste, Berlin. Partegàs is Assistant Professor in the Sculpture + Extended Media Department at Virginia Commonwealth University, Richmond. Exhibitions include: Species of Spaces, Museum of Contemporary Art, Barcelona (2015); In __ We Trust, Columbus Museum of Art, Columbus, OH; You Are Here, Anderson Gallery, VCU, Richmond, VA (both 2014); Samesation, DA2 Domus Artium, Salamanca, Spain (2013); Keeping it Real, Whitechapel Gallery, London (2011); Less World, Christopher Grimes Gallery, Santa Monica, CA (2010); Rebava, Galeria NoguerasBlanchard, Barcelona, (2009); The Invisible, The Aldrich Museum for Contemporary Art, Ridgefield, CT (2008); and Invaders, Museo Nacional Centro de Arte Reina Sofia, Madrid, Spain (2007). She is currently teaching at Parsons/ The Newschool in New York.