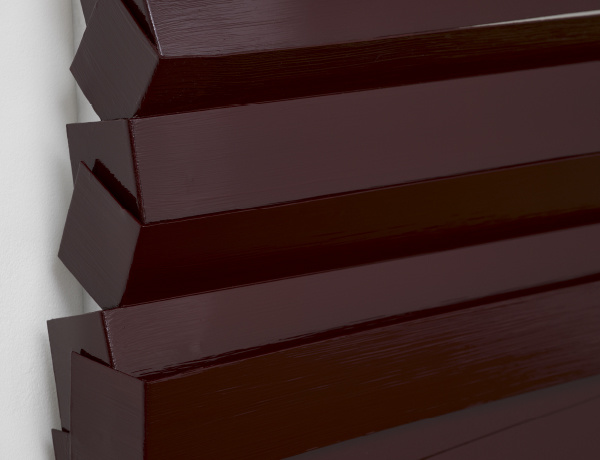 "I have been thinking about this concept of 'Bare' for some time, considering what is open to view, what is exposed, what the future holds…. I feel like we are walking into an unknown. The works in this show are all united through their bareness: be it perceptible openness or exposure, they all appear precarious, vulnerable and unprotected." Angela de la Cruz, 2018
A new body of work makes up Angela de la Cruz's exhibition at Lisson Gallery, her first solo presentation with the gallery in London since 2011. Titled 'Bare', the exhibition explores the vulnerability we are subjected to in the contemporary world – at a universal and individual level – and tries to offer a solution to the underlying uncertainty that represents our era. As a result of recent political events, de la Cruz transforms the gallery space into an installation that emits the sense of a deserted, closed market; a post-apocalyptic scene evoking unease and apprehension.
This new body of work embodies de la Cruz's oeuvre, overflowing with emotion, tension and humour. Asking "when is a painting not a painting?", the artist's work takes on a third dimension, free from the boundaries of the canvas and liberated from the formal constraints of painting. While embracing a minimalist approach that employs the use of monochromatic colour and repetition, the titles of the work – Bare, Crates, Shutters… – reflect the visceral and figurative nature of her paintings.
Like many of de la Cruz's previous work, these new series characterise a strong sense of the human body. Her violent and radical interventions enhance a performative element in her practice – physically ripping, stretching, crushing and tearing the material. Usually kept smooth and pliant, de la Cruz breaks with convention by deforming the stretcher and piercing its flat edifice, unleashing it into the three-dimensional realm. In the artist's words, "the body is making and negotiating space for itself". Just as the body suffers from the bounds of mortality, de la Cruz's works are a representation of this exposed materiality, relying on an emotional relationship between strength and fragility, between the beautiful and the broken.
Conceiving the exhibition like an album of songs, de la Cruz titled the exhibition after a series of new works. Bare comprises canvases that are cut open by the frame and then reattached, allowing for the structure underneath to be revealed. The artist described how she wanted to "imply that suggested gap – that hidden space – where everything seems transitional, impermanent." Similarly, another body of work from the series, Shutters – the title alluding to security, privacy and prohibition – suggests an action: a movement of 'shutting down' and hurrying to close a space. The exhibition will also include a number of works from de la Cruz's Crate series: hollow, cavernous, coffin-like aluminium forms warping to fit into smaller boxes. In various hues from burgundy to caribbean blue, these forms are impacted so as to invite the allusion of having fallen from the sky. (Lisson gallery press-release)
Lisson Gallery. 27 Bell Street . NW1. London
Image: Ángela de la Cruz "bare" Lisson gallery