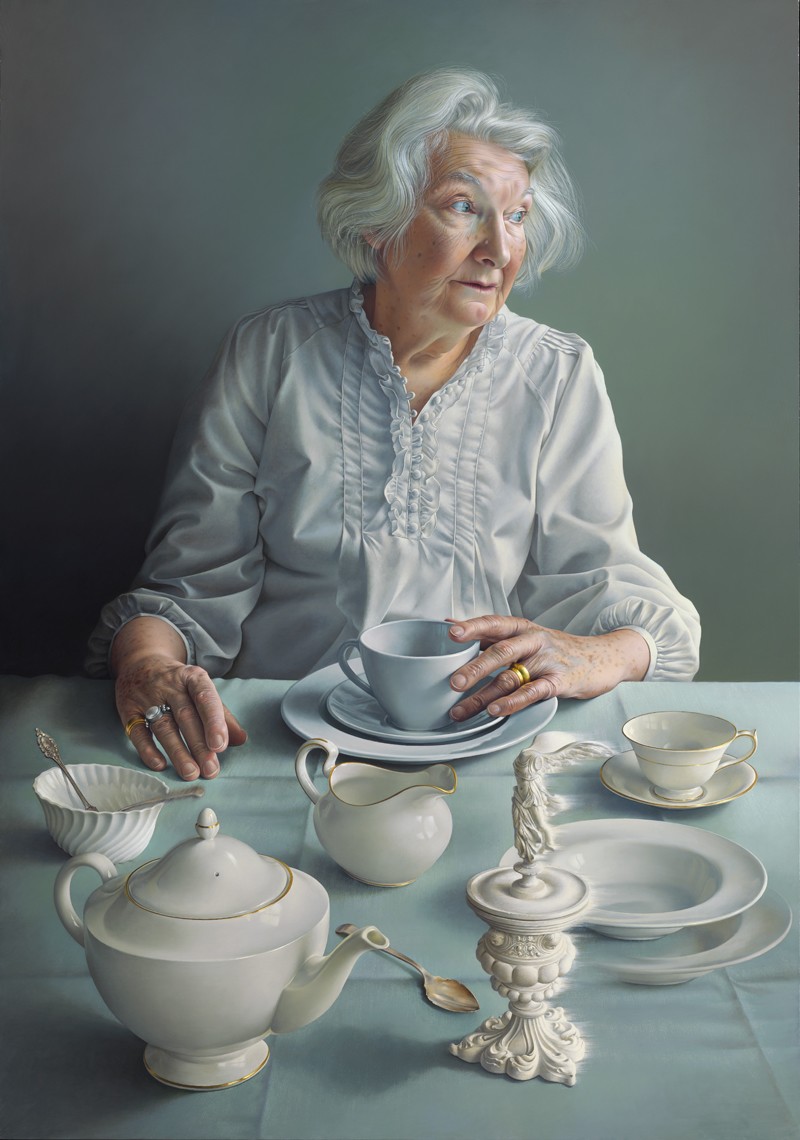 A tender and slightly surreal portrait of an artist's mother appearing to drink tea has won one of the UK's most prestigious art prizes.
Miriam Escofet, a London-based artist, was named winner of the 2018 BP portrait award for a painting praised by judges for its "constraint and intimacy" as well as its successful evocation of the idea of the "universal mother".
An Angel at my Table shows the artist's mother at her kitchen table surrounded by crockery. However, viewers who look closer will see that all is not as it first seems, one of the judges, Rosie Millard, said.
"The crisp tablecloth and china are rendered so beautifully and then you see that one of the plates and a winged sculpture on the table appear to be moving, which adds a surreal quality to the portrait.
"It is also a very sensitive depiction of an elderly sitter."
Miriam Escofet was born in Barcelona, moved to the UK as a 12-year-old, and began painting soon after graduating in 1990 from the Brighton School of Art, where she studied 3D design.
The BP Portrait Award is the most prestigious portrait painting competition in the world and represents the very best in contemporary portrait painting. With a first prize of £35,000, and a total prize fund of £74,000, the Award is aimed at encouraging artists to focus upon and develop portraiture in their work.
The BP Portrait Award is in its thirty-ninth year at the National Portrait Gallery and twenty-ninth year of sponsorship by BP and continues to be an unmissable highlight of the annual art calendar.
National Portrait Gallery. St Martin's Place London WC2H 0HE
Image: "An angel at my table" Miriam Escofet 2018