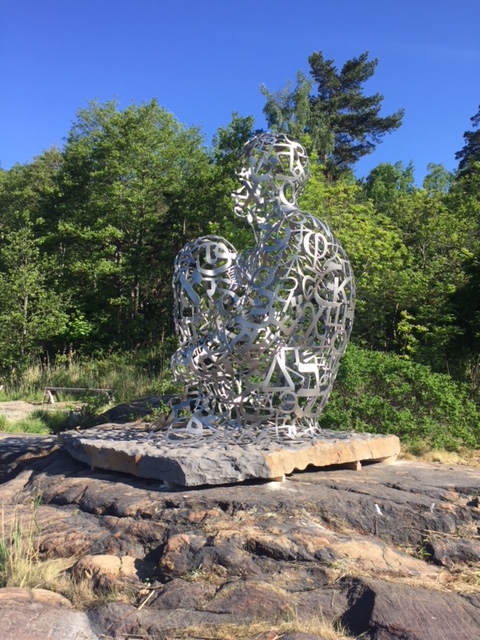 Jaume Plensa, one of the world's most famous artists, will be exhibiting his work at Djurgården this summer. Sculptures with the total weight of approximately 30 tonnes will be brought from Plensa's studio in Barcelona to Djurgården. Apart from three 7 meter high cast iron portraits, this year marks the premier of a sculpture installed in the canal itself. Towards the north of the canal, below Etnografiska Museet, the work The Heart of Rivers will be installed, this piece is comprised of seven human figures in bronze in a seated position each embracing a living cherry tree.
The sculptures and installations of Jaume Plensa have undergone several changes over the years, but he has consistently created works that in some way is connected to universal themes of spirituality, the physical body and the collective memory. His art springs from literature, psychology, biology, language and history. Whether made out of steel, glass, bronze, alabaster or by light, vibration or sound, his ideas and associations are always brought forward. Plensa believes sculptures to be an extraordinary vehicle for accessing emotions and thoughts. His work asks questions and sets up situations that encourage us to think and think again, to talk with one another, to be silent and meditative, to touch, and experience togetherness. Once placed in the great outdoors of Djurgården, Plensa's sculptures will face each other, as if trying to catch each other's' eye and despite their magnitude, will induce a feeling of intimacy, reverence and enhanced calm.
´Art gives people the possibility to dream. I have always understood art as a path to knowledge and way towards something better. I decided many years ago that my work would carry a sense of hope´. Jaume Plensa
Jaume Plensa is born in Barcelona in 1955. He trained at the Llotja School of Art and Design and Sant Jordi School of Fine Arts in Barcelona where he also had his fist show in 1981. Since then he has lived and worked in several European countries as well as in USA; at present he is based in Barcelona. He has taught at L'École Nationale Supérieure des Beaux-Arts in Paris and has a professorship at the School of the Art Institute of Chicago.
Plensa's work has been exhibited at a large number of galleries and museums in Europe, USA and Japan, e.g. Joan Miró, Barcelona, Galerie Nationale du Jeu de Paume, Paris, Henry Moore Sculpture Trust, Halifax, Malmö Konsthall, Malmö, Museum Moderner Kunst Stiftung Ludwig, Wien, Museo Nacional Centro de Arte Reina Sofía, Madrid, BALTIC The Centre for Contemporary Art, Gateshead, Musée des Beaux-Arts, Cannes, The Nasher Sculpture Center, Dallas, Picasso Museum, Antibes and finally Yorkshire Sculpture Park to mention some. Jaume Plensa's exhibition Together was presented in the Basilica San Giorgio Maggiore in Venice alongside the 56th Venice Biennale in 2015.
Since 1992 Jaume Plensa has been awarded many prizes, nationally and internationally. Some of the most prestigious ones are his investiture as Chevalier des Arts et des Lettres, which he was awarded by the French Ministry of Culture in 1993, the National Award for Plastic Arts and National Culture Awards given by the Catalonian government and Barcelona, his Honory Doctorate from the School of the Art Institute of Chicago in 2005, Mash Award for Public Sculpture, London 2009, Association of Catalonian Galleries Award 2011 and the prestigious Velázquez Prize for the Arts in 2013.
A major contributor to making Jaume Plensa a global name in the world of art is his many works in public places, which have gained great acclaim. Some of the most renowned works are found in Albright-Knox Art Gallery, Buffalo; Pérez Art Museum, Miami; Millennium Park, Chicago; Olympic Sculpture Park, Seattle; BBC Broadcasting Tower, London; Mori Building på Toranomon Hills, Tokyo; Shanghai IFC Mall, Shanghai; Bastion Saint-Jaume, Port Vauban, Antibes; Borås Fashion Center, Borås; Umedalens Sculpture Park and Kulturhuset Väven, Umeå; Hotel At Six and Stureplan in Stockholm. The exhibition, will be on view for four months and seen by millions of visitors. The exhibition is initiated by H.R.H. Prins Daniel and arranged by Galleri Andersson/Sandström in collaboration with the Royal Djurgården Administration, for the third consecutive year and this summer's presentation is the most extensive so far.(GSA press-release)