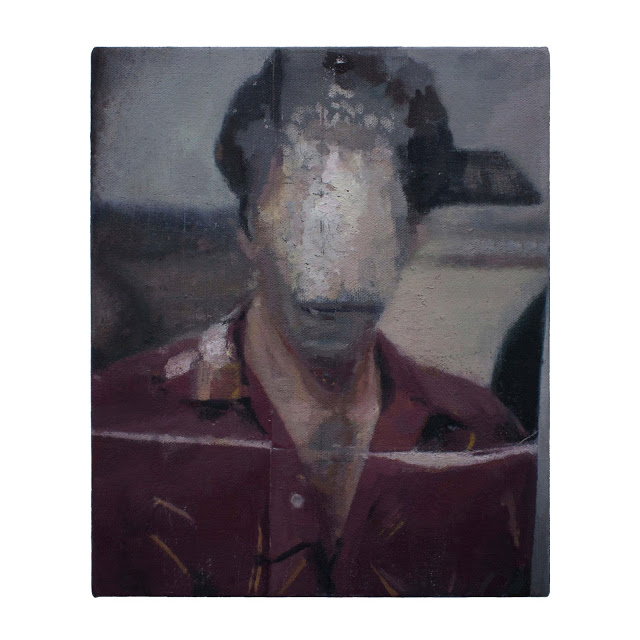 José Carlos Naranjo describes his way of working as a tension between the pursuit of an image/idea and a simultaneous desire to deny, block or subvert the emerging image.  He thinks of this process as like a rizoma (rhizome) – an underground stem system of lateral shoots and splitting roots. José Carlos is moved by core issues of painting –  the construction of an image, material and visual processes, choice and questions of interpretation.
Working from snapshots and found photos José Carlos builds an image, finding visual leads, following a branching pattern.  Inevitably the image changes. It may also change back. The application of paint takes time and presents complications and opportunities. A ground rises to the surface, colour masses up, brushes dragged through leaving a print. This is part of the idea of branching – the friction between action and material in time and in the hand of the artist. And each layer of paint risks obliterating the developing image, changing a shape, altering a colour, moving to abstraction or making more like.
Painting (particularly painting which is figurative) in the post-cinema/video age is inevitably contrasted to moving images. This conversation can be suspicious in tone, sniffing out anachronism, the perverting of modernity. But it can also offer rich parallels, branching and overlapping ideas of the relation between time and the making, meaning and aging of images and the hand/mind of the artist. The suspects-map of the movie police detective links photos in red thread, seeking meaning in crime, overlap and adjacency for tools.
José Carlos Naranjo's paintings display clues of this skirmish. Underlayers of form and colour on surface appear and disappear or blur into an impression of agitation underneath. The image wriggles to the surface, emerging like from water or through time, recalling our on-going construction of memory.
José Carlos Naranjo (Villamartín, Cádiz, 1983) studied Fine Art at the University of Sevilla (MFA Art, Idea & Production, 2011, BFA, Painting, 2008).  Recent solo exhibitions include Chapa y pintura, Galería Birimbao, Sevilla (October 2017), Do Re Mi Fa So La Te in the Perimeter Space, Griffin Gallery, London (2018), and Black Trunk of the Pharaoh at Unit 1 Gallery, London (2017).  His work is in collections in Spain and the UK, including CAC Malaga; BMW, Spain. In 2016 he was shortlisted for the Columbia Threadneedle Prize, and in 2013 he won first prize in the 28º BMW Painting Prize. He currently lives and works in London. (SCAN press-release)