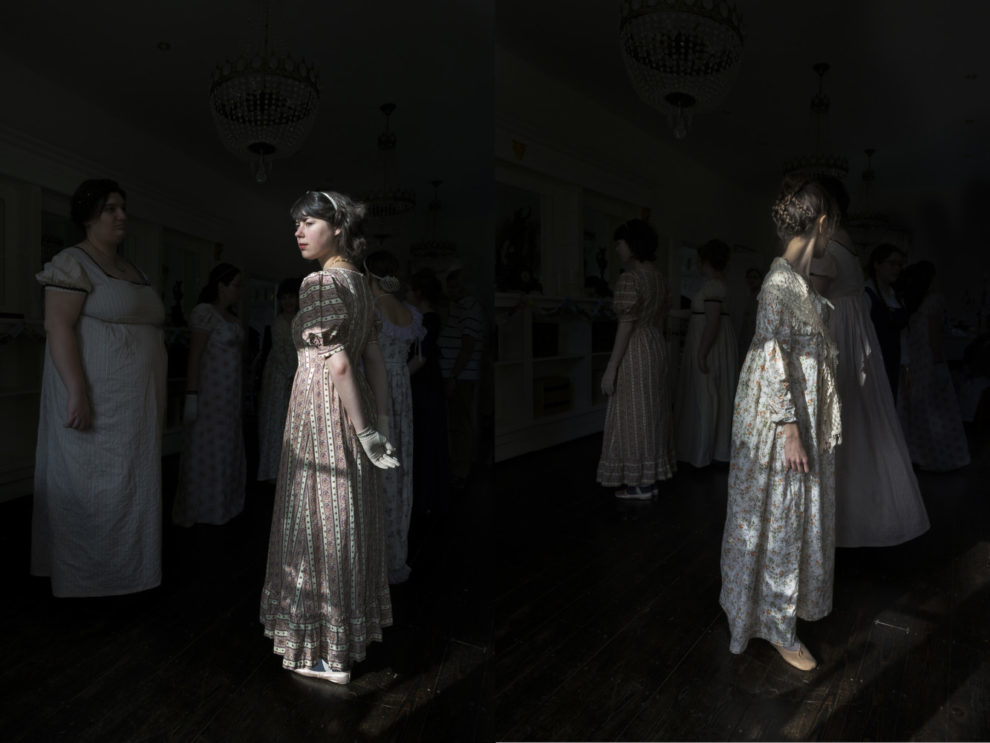 The Belonging to the Story exhibition hovers between reality and fiction and uses the techniques of contemporary photographic art to examine the way in which we cling to one another and the world, dream, create utopias, and imagine the future. The exhibition also explores the photographer's role as the producer of meanings and ideas and the camera's task as the recorder of light and "reality." At the same time, it aims to give the viewer space to delve into their own imagination and thus continue the story.
The artists were chosen from 31 Transeurope projects by a group of curators from the Finnish Museum of Photography: Clément Beraud, Reetta Haarajoki and Tiina Rauhala.
Artists: Alejandra Carles-Tolra, Pablo Lerma, Stratos Maragos, Alessia Rollo, Maija Savolainen, Peo Olsson & Johan Willner.
Where We Belong by Alejandra Carles-Tolra is a body of work exploring themes of belonging, femininity and escapism through a portrayal of Jane Austen devotees.
The "Jane Austen Pineapple Appreciation Society" is a group of people who share a strong passion for the 19th century English author. The society's members, who define themselves as "Janeites", have created a community of like-minded people with whom to celebrate the work of the writer.
Since its creation over two years ago, the society has built a solid network of support and sisterhood that has created strong bonds among its members.
Through the work, Carles-Tolra explores how the sense of safety and belonging that specific groups might offer, can empower the individuals and strengthen their own identity. In the photographs, Carles-Tolra uses physical and psychological closeness to represent the intense relationships fostered within these communities, and to depict the existential need to belong.
She is also interested in examining the threshold between fiction and nonfiction, between past and present.
The goal is to invite the viewer to question where the performance starts and ends, and to challenge where the limits between reality and imagination lie.
Alejandra Carles-Tolra is a Spanish photographer and educator from Barcelona, currently based in London. Her work has been published and exhibited internationally, including CNN, Vice, The Huffington Post, Gup Magazine, World Photography Organization, The Independent, Circulation(s) Festival in Paris, Jerwood Space in London and the Wuhan Art Museum in China. In 2016 she was a finalist at the Outwin Boochever Portrait Award at the Smithsonian National Portrait Gallery in Washington, and in 2017 she was awarded the Jerwood Visual Arts/ Photoworks Award.