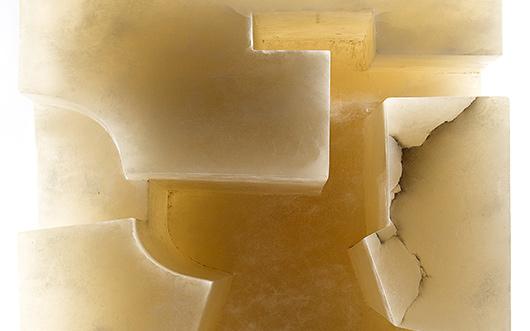 From the 1950s, Spanish artist Eduardo Chillida (1924-2002) contributed to the renewal of the kind of sculpture that challenged the constraints of materials. Associating ironwork with modern sculpture, encompassing the surrounding space, he has thus contributed to a redefinition of sculpture, along with DavidSmith in the United States or Anthony Caro in Great Britain. In keeping with the artist's previous work, who devised Peine del viento [Wind Comb], his masterpiece based on the Atlantic coastline, as a sculpture, an architectural space, and a site subject to the laws of the sea and wind, the exhibition presented at Les Abattoirs will broach themes focusing on the four elements. It brings together a series of works characterised by Eduardo Chillida's concern with the notions of gravity, emptiness, and solidity. Beyond an aesthetic approach to sculpture, the project will illustrate the artist's mission to create volumes that represent all kinds of physical, spiritual, and humanist sites.
Relating to the artist's preferred themes, such as the limits of space and materials or the role of art in public space and in nature, the exhibition will bring together around sixty sculptures from 1948 to 1999. Similarly, the exhibition will assemble a selection of graphic artworks, including cutouts and collages that also experiment with space and materials. A selection of etchings of posters dedicated the human rights will highlight the artist's humanist commitments. The exhibition will also be completed by a previously unseen collection of films and photographs. The arrangement of certain sculptures, particularly suspended sculptures, will attempt to engage a direct dialogue with the unique architecture of les Abattoirs, presenting a wonderful challenge to gravity.
This body of works is based on the collections of the Chillida-Leku Museum, stemming from the artist's own studio archives, as well as from French and Spanish public and private collections such as that of the Museo Nacional Centro de Arte Reina Sofia in Madrid or the MACBA, Museu d'Art Contemporani de Barcelona.
The exhibition at Les Abattoirs will thus provide the means of rediscovering the work of this major artist in the history of sculpture. Presented as an echo of the collection of artworks from the CNES Space Observatory, this exhibition will also illustrate the extent to which Eduardo Chillida's thought is also engaged with the primordial parameter of gravity and ways of overcoming the weight of materials in sculpture. (les Abattoirs press-release)
Les Abattoirs. 76 allées Charles-de-Fitte. 31300 Toulouse. France
http://www.lesabattoirs.org/en
Imagen: Eduardo Chillida, Homenaje a la Arquitectura II, 2000, coll. Famille Chillida – Belzunce © Zabalaga – Leku, ADAGP, 2018, photo : Alberto Cobo